Veggie Stigma
MAG
May 28, 2013
"It's not a very vegetarian-friendly world," the waitress explained with a sad smile. This was her response to my mother's complaint that my "vegetarian option" – eggplant parmigiana – had meat sauce. I was beet red and on the verge of tears. I did not want this attention. My distress filled the void in my stomach that the food could not.

I can't speak for every person who abstains from eating animals, but for me, vegetarianism isn't a diet – it's a lifestyle. It's a choice I make at least three times a day, no matter the disappointment, hunger, or lack of options. It means making sure I have a stock of protein bars in case the only veggie-friendly items at a restaurant are the side salads.

As a six-year-old leaving the grocery store with my mother, I inquired what ham was made of. "Pig," she explained. Suddenly the free sample I was munching on lost its appeal. "I'm never eating ham again," I announced, imagining the pigs and piglets I had seen at fairs. How could I enjoy watching them live and breathe and eat them at the same time? A couple years later I dubbed myself "part vegetarian."

Soon after, I pushed away my last tunafish sandwich and went whole-hog, so to speak. In the produce aisle and the health food aisle of our grocery store, my mother announced to two different women that I was a vegetarian. Each asked, "Since when?" and my mother responded humorously, "For two weeks." Both grown-ups chuckled. Today, my mother doubts this ever happened. Perhaps my naive nine-year-old sense twisted these memories into something more hurtful than reality, but the discouragement I gleaned from their laughter is seared into my mind.

"So, can you, like, eat peanut butter?" a girl at my fourth-grade lunch table asked. Another told me, "I wouldn't eat meat if it were only me eating the chicken, but since my whole family does, it's not like I'm killing it." "That's not the point," I wanted to reply. Every year after discovering my secret, classmates reply in half-disbelief, "You're a vegetarian?" Again, beet red.

When I was younger, I thought that people were making fun of my beliefs and me. Even my seventh-grade teacher's inquiring, "Are you an animal-rights activist or do you just not like meat?" made me uncomfortable. Comments people made about my vegetarianism felt hurtful. But I've come to realize that they were just trying to understand a choice that many had no knowledge of, not trying to offend me personally.

Over time I have learned not to be embarrassed or ashamed of being a vegetarian. I don't feel bad if I visit a friend's house for dinner and they go out of their way to make me a separate dish. If they didn't want to do it, they wouldn't have invited me.

When people ask how long I've been a vegetarian, I explain since I was nine, more than seven years. I am proud of myself for sticking to my beliefs. My peers tend to be impressed – being a vegetarian isn't easy.

Now that I'm more experienced, I have learned what to say, what to avoid, and when to eat before going out. I have also learned how to understand the people around me. I have the honor of helping teach others a little bit about myself and people like me. It makes me feel good when they have questions. These are people who are interested in diverse beliefs. Being polite and not trying to claim that my choice is the right one for everyone is the best I can do. I can accept and respect other people's beliefs, as I hope they will respect mine.

"I remember when you said you were a vegetarian in, like, fourth grade. That's such a long time. I could never do it. Do you ever want to eat meat?" "Not really," I reply with a smile. "I used to, at first, but then I got used to not having it, and it lost its appeal." "Hmm," my friend answers, understanding. My friend is eating a turkey sandwich, and I'm enjoying a bagel with cream cheese. And that is perfectly all right.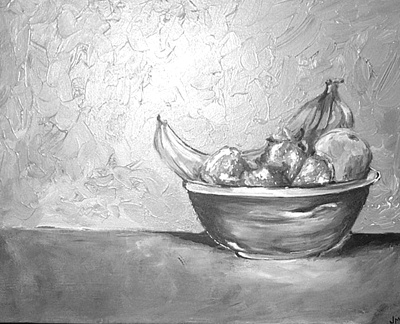 © Jennifer M., Vancouver, WA