For the Love of Peanut Butter
MAG
November 13, 2010
I love peanut butter.

I have loved it since I was a preschooler munching "ants on a log" during snack time, and I cannot fathom having a peanut allergy. However, when I was 15, even mentioning my favorite childhood food made my heart beat with fear. Why? I had anorexia nervosa.

When people hear the term eating disorder, they usually assume those who suffer from it can recover simply by eating normally again, but it's not that simple. Anorexia is a psychological disorder; shoving cupcakes down someone's throat does not heal the mental component of the disease.

It is a slow and difficult process, especially because victims have a warped perspective of both their bodies and food. I was 78 pounds at one point; despite my ghastly skeletal appearance, I thought I was perfect. I was convinced donuts and pizza were pure evil.

When I turned 16, I suddenly wanted to recover. It's impossible for me to explain why or how it happened, but I knew I could not deprive myself any longer. The next few months were the most difficult of my life; I would have a gigantic argument with myself at every meal.

"Eat the egg yolk."

"No! That's 50 calories!"

"Eat it, eat it, eat it!"

Eventually, it was time to face my number-one fear food: peanut butter.

Because I still obsessed with how healthy foods were, I decided I would only consume natural peanut butter made without hydrogenated oils. That was easy enough. The next step was opening the jar and actually eating it.

I sliced an apple, took out a spoon, and slowly unscrewed the lid. I started panicking. What if I consumed more than one serving? I carefully scooped out just one tablespoon – 100 calories.

For the next month, although I was no longer counting calories, whenever I was craving peanut butter I ensured that my metal tablespoon was with me. If I couldn't find it, I would eat something else. Then one day that tablespoon had a run-in with the garbage disposal, and I finally realized that in order to overcome my eating disorder once and for all, I had to eat peanut butter without measuring it.

I grabbed the jar from the fridge and unscrewed the lid, took out a knife, and smeared it onto my whole wheat toast. Was it two tablespoons? Was it 1.36? I didn't care. I popped the bread into my mouth.

Success.

If I can overcome this disease, so can the millions of people who are suffering from eating disorders. It just needs to be attempted one step at a time because everyone is stronger than they realize.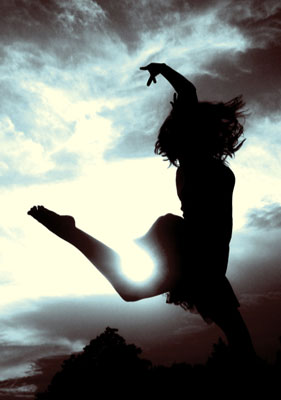 © Anonymous