i'm living a nightmare
August 22, 2009
This is not a story. it's not some fairytale with a happy ending or a beautiful love story. this is a nightmare. no once upon a time, no middle, and no happily ever after. a article with none of the above may be hard to believe but it's true. this is an article about a 15 year old girl living in a box so no one can see how ugly she really is. and if you can't stand scary stories then i strongly suggest that you don't read this.

now that i think about it i guess scary isnt the right word but that word is for you to replace. i guess i should start whith the roots of my problems. root number one: my pairents got divorced when i was only five. i thought wedding vows sqid "and as long as you bolth shall live". well i guess i was wrong. root number two: i dont quite remember if this was before the divorce or after but i think it was after. anyway my little sister came into the world. little did we know that she would become such a monster but i will tell about that later. finely root number three: my mom just ignored me. all she did was adore that little thing and didnt really play with me but atleast i still had my dad.

then my life fell apart. we had to sell our house and move into a small, and i mean small, apartment. i was so so mad. i resented my mom more than ever. we got into fights all the time because my sister wouldn't leave me alone and the cops were called every time. then one night i ran away for three or four hours. they were so worried. who knew?! not lond after that i got so mad i beat my sister and the state said i had to leave them. i dont think my mom cried very much. so my grandpairents took me, i started a great school, and mad some good friends.

let me guess you dont think this is creepy at all. well not yet. eighth grad came around and i still wanted nothing to to with my mom and was so hurt that i exploded. i tried to kill my self twice and i would get these spells that would control me. i couldn't break free of them. i would get mad and speek out of my head and just go insane. the worst part is, i cant remember them at all. i cant remember anything that happened. it felt like i was in a room filled with smoke and couldnt find my way out and when i would it would be like "oh where did this scratch come from". i would cry for hours.

then my sister ended up in a mental hospital. she is ADD and ADHD and manic depressive. then my dad started smoking again and then my mom and i arnt on good terms and then my dad hit me and then..... it never ends. it just.....my pain just wont go away. i scream all the time and no one listens. i hurt and no one comes to my aid. i am dying........one person saved me. only one person ever helped me. his name will not be mentioned and if i could only find a way to thank him.

and now i am bipolar. life just never stops giving me lemons. i am living in a box covered in dust because i have hid for so long and i just want to come out. but it's not safe. heck I'm not safe to be around. love is so far gone that i feel pain all the time. I'm living a nightmare...... and this is only the beginning.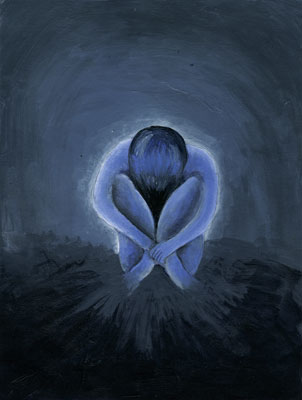 © Anonymous