How Veterans Deal With Post Traumatic Stress Disorder
May 3, 2019
How Veterans Deal With Post Traumatic Stress Disorder
Many Veterans have gone to war with a brave heart all to serve our country. But what some people don't understand is all of the horrible things veterans have seen (so we don't have to) can take a toll on their lives. Out of all of the ways to cope there are some conveniently positive along with some not so convenient negative ways for these veterans to cope.

Don't just be active, be proactive!
Active coping is where veterans can take the trauma on their life and turn it into something good, like proactive activities. Instead of sitting around and waiting for what may or may not happen, these Vets can seek help, assist others while continuing to help themselves, and take their pain and turn it into good for others.


"Going back to normal" doesn't happen at the snap of one's fingers.
It helps to know that recovery can't be changed overnight. If magically feeling better was real then no one would ever be sad and we'd be living in a real life dystopia. However, since that's not true it's best for people to understand that recovery takes time. In this case, Veterans need to accept that they have PTSD and that they need to take proper precautions in order to cope in a correct and healthy way. Veterans also need to accept the fact that it takes time to heal all wounds whether they be physical or emotional.


Support groups.
Depending on the person maybe talking to other people helps them cope a lot. In general talking with someone who is currently or has experienced similar feelings and/or thoughts can help one to cope. Going through something alone is hard, but if there are others going through that same thing then it makes it easier. Support groups are great for veterans with PTSD because they can hear other people's experiences and outcomes as well as get and give help to those people.

Man's best friend.
It's proven that having a companion reduces stress. Being alone all of the time isn't good for stress but if a Vet doesn't like spending a lot of time with other people, a furry friend could surely help. Many dogs are trained to help people with their anxiety by having learned what things to do when their owner acts a certain way to help calm them down.

Help is only a phone call away, literally.
Technology is so widespread now that many people can hardly do anything without it. If they were to have a breakdown from PTSD Veterans could easily use their mobile device to call a family member, or a crisis line to help them feel better. If not needing to directly talk to someone, mobile apps are also another helpful thing for Vets to have handy in case nothing is severe but they don't know what to do.
While there are many healthy coping habits there are also some not very healthy habits. Sometimes the trauma that veterans experience is so much that they unknowingly turn to bad coping habits which can temporarily help but then eventually make symptoms worse.

What feels like help, is only making it worse.
Substance abuse is a problem not only for everyday citizens but for Veterans as well. In general a lot of times Veterans would be prescribed something that best reduces what they're experiencing, like antidepressants. However, while antidepressants aren't very addictive, Vets may quickly obtain a physical dependence on taking the drug. In other cases, Vets may find that alcohol is a easy access, good stress reducer, but when consumed for many hours of the day, their death date is coming sooner than if they didn't feed into their addiction and got help. Just quitting is easier said than done but finding the right help is what's needed.
As Eric Carmen best sang "All By Myself".
Not going out into social situations only makes the situation worse. The bad memories making one stray from asking for help from loved ones and missing out on family memories is just one of many things that could cause a downward spiral. When Vets feel like they have no one to turn to, they seclude themselves from everything because they don't want to seem like a burden or weak when they were trained to be strong.

Being ON GUARD at ALL times.
Sometimes being sensitive isn't so great. Especially when it means being alert to EVERYTHING. When vets experience this, they end up becoming more stressed and paranoid due to only looking for the bad things that remind them of their experiences.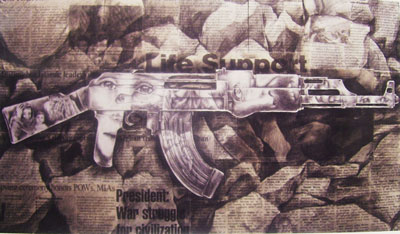 © Claire V., Lubbock, TX