The Things We Love and the Things Gone Unnoticed
November 23, 2010
There are just some things that most people take for granted, town folks especially. For example, driving in a town with a lake that you have to pass by goes unnoticed. You get used to seeing the same thing over and over, so you think, but in reality the sunset and sunrise can be different with each passing day.
The frozen lake with the ice fishers on it with their shanties, pop-up poles, big jackets, snow pants, and boots is just an amazing picture. Living in the country is different; we country folks notice every little thing. The types of birds, sunsets, sunrises, snow on the trees, birds chirping, gun shots, crickets, frogs, fall time, the wild animals, deer blinds in the woods, the smell of campfires and the looks of nature in its best.
The wildlife is the one thing that gets taken for granted the most. People driving through the woods don't look for the colors of the leaves, the tracks on the pathway, the birds, other wild animals or the gorgeous wild flowers.
Camping has changed, now we have campers, high-tech gadgets, stoves in the campers, portable TV's, and portable radios. Whatever happened to the old days when camping meant you pitch a tent, sit around the fire tell stories, roast marshmallows, drink pop or coco, cook your food over the fire or on a portable gas grill, and go to the bathroom in the woods? With technology growing it is changing the beauty of the wildlife.
When it comes to the wildlife, I love going in the fields and lying in the fallen leaves as a result of fall or just laying in the weeds. The smell of the trees, the dew, the spring weather, fall weather or winter is just the things nobody notices anymore. We've forgotten the little things to notice while living in beautiful Northern Michigan. The wildlife is what makes Northern Michigan, Northern Michigan; not the high tech gadgets we invent, or the factories, or even the towns. It is the wildlife we need to pay attention to more and take care of. If it wasn't for the wildlife we wouldn't live in such a beautiful place.
It is the things in the woods that make living here so wonderful. Go 2-tracking and actually pay attention to the colors, smells, sounds, animals and actually look, look hard in the woods for things you might have never noticed and you'll notice all the beautiful things you can find.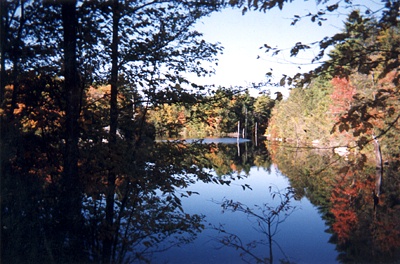 © Jacqueline W., Milton, MA