Nursing Home Helper
MAG
January 16, 2014
Tick, tick, tick. Teeth brushed, school over, homework done. It was a Friday, and starting today, Fridays meant a trip to a senior nursing home downtown. This particular nursing home was special. The Centers of Medicare and Medicaid Services of the Department of Health and Human Services had given it the lowest rating – one star out of five – based on health inspections, quality measures, and staffing. It seemed as if this nursing home needed help, but little did I know it would help me too.
During my first visit I was asked to polish some of the female residents' nails. I'd never touched a nail polish bottle before, but I tentatively rubbed off the old color using a tissue dabbed with polish remover. As I applied new color and glitter, one woman asked me a stream of questions. "Where are you from?" "What school do you go to?" "Do you have any siblings?" After she was satisfied with my answers, she started to share some of her hidden anguishes, from the deaths of her husband and second son to the one item she wanted the most: a camera. By listening to her and empathizing with her loneliness, I realized I had actually helped her; she looked relieved, unburdened of some of her past pains.
When she was finished, she told me something that inspired me to visit the nursing home every week. She said, "You're the only person I was able to tell this to. The other ladies are too busy to listen to me, and the other residents don't care. You'll come back next week, right?" After gently blowing on her newly coated nails, I smiled and promised, "Yes, I'll see you next Friday at three o'clock."
As I reflected on her bittersweet reminiscences, I left the nursing home that day gladdened by the fact that I had helped somebody. An action as simple as listening became something much more.
During every second I spent in the nursing home, I realized how much of a difference my actions could have on the lives of others; I found energy and vigor in a place not typically known for it. Every week, I walked around the dining hall, and one resident after another motioned to me to sit down and talk. One woman, who happily commented that we shared the same first name, confided her opinions, starting most of her sentences with the words "To me …" Another proudly showed me a birthday card her children had sent her.
Of course, not all of the conversations were lighthearted. When one elderly woman talked to me about how her 13-year-old daughter would be graduating from middle school this year, I didn't know what to do but nod and listen, knowing that her daughter must have graduated from middle school decades ago.
Although I could not add more years to the lives of these elderly residents or offer them a chance to return to the past, I knew I could give them something simple that's often overlooked in our society. Through our conversations, I gave them the assurance that in this fast-paced world, they were not forgotten – that members of younger generations still cared about them and were there for them.
By spending several moments each week just listening and talking, anyone, from students like me to adults, can lift the burden off someone, touch and listen to the hearts of others, and live through them. It's not just limited to talking, however. It can come from a homemade card or a single greeting. I cannot play any complex compositions by Beethoven or Chopin, but I can reach out and speak to the residents in the nursing home through music by playing Yiruma's "Kiss the Rain" and Paul Anka's "My Way."
It seems that the most troubling aspect of living in a nursing home is that it breaks the human connection between those in today's society and the nursing home residents, who barely even noticed each other until a wheelchair blocked their path. Each is isolated, wrapped tightly in their own anguish and past.
Every moment I spend chatting is an opportunity to tie that connection again, to unwrap their troubles, to alleviate pain, and to shape someone's life. In turn, that moment also shapes me. I not only learn about life and experiences outside of school, but also receive the gift of being part of this process – this connection between humans. Those moments of sharing and listening are magical for both the giver and the receiver.
Tick, tick, tick. A conversation starts, a smile is exchanged, another life is changed.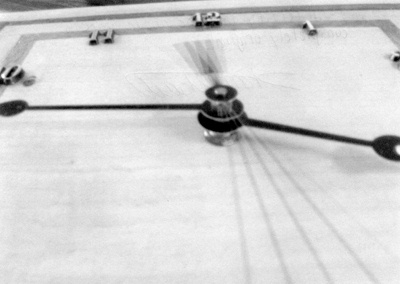 © Michael H., Milford, CT