Crates of Books
MAG
September 30, 2008
I've never organized a food drive. I've never spent a weekend at a soup kitchen, dishing out food. I've never gone on one of my church's many mission trips. I've never been that girl, the one who goes across the world making a difference in places you wouldn't even dream of. However, I've had a lot of experience with volunteer work.

When I was young and my mother picked me up so I could reach the Arthur books on the top shelf in the library, I was perhaps the most enthusiastic reader the librarians had seen in years. I raced through books – Dr. Seuss, Junie B. Jones, and many others. By the time picture books were a thing of my past, I had dived into the lives of aardvarks, rainbow fish, mice, maids, and children of all backgrounds. When I delved into the world of chapter books, I discovered magic in Harry Potter. I learned that you're not always dealt the best hand in A Series of Unfortunate Events. The Baby-sitters Club taught me that friends are there no matter what. And I learned these life lessons while some of my classmates were still reluctant to open a book without being forced.

I think that certain people are born readers; they are born with the type of mind that makes a book like a good ice cream sundae, something you just have to devour. Loving books seems to be part of their nature. But I think nurture affects your reading aptitude too; it certainly did for me.

Six hours is a long time to volunteer at a young age. It's a long time to be out in the sun, alphabetizing, organizing, and assisting customers. Yet for as long as I can remember, almost nine years now, I have volunteered at my local library during the spring and summer months.

The friends of the library have a book and bake sale every June. It is a two-day event, but it takes months to organize. We trek into the dusty basement and search through book donations from throughout the community. Sometimes you find a winner, a newly released hardback book, and for that we may get a dollar. For the flimsy ten-page children's books we may only receive a quarter. I used to question the low prices, but now that I'm older, I've started to understand.

When I see a child's face light up at the sight of a book, it just clicks. Of course the library needs money for improvements. But more than that, it's about that person's face. It's about a child or adult being able to buy a book that they wouldn't have otherwise.

It's about the four-year-old's face lighting up at Arthur's latest adventure. It's about the seven-year-old girl who discovers magic. Or the nine-year-old who finds a secret garden. Or the college student who decides that the books are so cheap, she might as well buy one … or two … or 11. It's about the grandparents picking up Dora the Explorer's latest adventure for their grandchild.

It's about the adults who run this event, who are so ridiculously grateful for my time. It's about the seriousness with which they treat me. It's about being a part of something. Without the sale, the adventures I read about as a child might be lost to others who never bought that book. The library wouldn't be as nice without the money the sale earns.

When I started volunteering at the library, it was because of my mother. At first I was a bit in the way. But as the years passed, that changed. My love of reading expanded, as did my love of volunteering. In the past few years, I've almost single-handedly organized the children's section of the sale. It's a lot of work, and none of my friends quite understand why I do it. It's about the faces and the feeling I get in my heart and mind, that maybe, just this once, I've done something I can be proud of, not just for me, but because it affects others too. Spending summers helping at the library is something that is now second nature to me.

People talk about going on vacations in the summer, and so do I. Whether it be Hogwarts or a place 20,000 leagues under the sea, I'm on vacation too. And I enjoy those vacations, primarily because when I was very young, my mother took me to the library. It's great to help out at a place that has influenced me so very much.

My volunteer work will stick with me forever. I'm immersed in it to the point that I want to rearrange vacations. It's only a few dozen crates of books, but to me, to the library, to the community, to the adults who run it, to my mother, my father, and the children who read the books, it may just make all the difference in the world.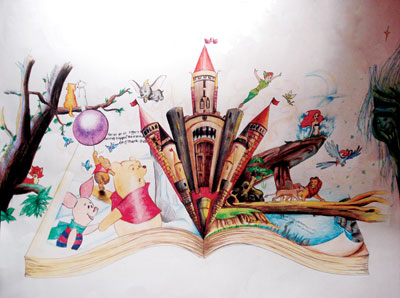 © Shirley L., Chino Hills, CA