The Turning Point
January 20, 2010
I was the type of person who cared for nothing but my own life. Others problems or needs did not matter in my world. Why? Because I use to see no need in helping others; I mean no one helped me when I had problems. Moreover, I use to think that those that went through hardships were there because of some reason or the other, and they would eventually get out of it. I use to be a cold hearted individual who lived in nothing but in a world of my own. Miraculously, there was a time in my life when everything changed. A sunshine suddenly arose from my heart, opening its' doors to a new world where I was the key in helping those in need of a helping hand.
It was in the spring, the time where the flowers begin to bloom once again, and it was also the time when I stepped in the group home. As usual I was complaining about how I knew I was going to hate it. First, let me say that the only reason I volunteered at the group home was because my mom was the nurse. Anyways, that day as I pulled into the parking lot, I realized how different of a place it was. It was nice and clean and there were elders everywhere. As I come and check in at the front desk, for my first service hours, I receive a myriad of greetings from the people surrounding. I'm not going to deny it, but it felt as good as breathing in love. Then I felt a sudden warmth inside of me.
Shelby, the lady in charge of community service assigned me to watch for the elder in room 111. She told me that my job was to look out for her and help in anything that she needed. At first I thought that this was the beginning of a nightmare, but it turned out to be something completely different.
After listening to Shelbys' instructions, I walk toward my destination; I search for the room number. When I found it I knock softly and ask if may come in. Within a few seconds, a voice of wisdom came from inside the room answering yes to my question. Later I stepped inside and introduced myself, first with my name and then with an explanation of why I was there. Meanwhile, I discretely take a glance around the room. The walls were light beige and they were almost covered in picture frames. While I was looking around she introduces herself as Marie Brown and tells me she is 75 years old. As she spoke, I examined her. Her eyes were a faded deep blue and her hair was short and white. Her skin was old of age, but seems to be soft, her faced was marked by wrinkles of wisdom, which could really tell you her life story. "So it seems that you've been here for a while huh?" I asked. For a minute it was all silent, and then she answers yes to my question with a very sad voice. At that moment I realized that I had asked the wrong question. For the first time in a very long time I felt bad for hurting someone's feelings, especially Maries.
BAHM!! It hit me! For the first time in many years I started to realize many things.
I realized why she was there, the reason, was because she was too old and too sick to be taken care of by her family. I also realized that many elders in the community went through the same situation. It was not until then; that I started to put myself in someone else's shoes and tried to imagine how this people really felt. I mean is not easy to be abandoned by those that you thought loved you. It was then that I set my self a new goal. First, I would volunteer more often, and secondly I would make a difference in this elder's life. I would try to give them love, happiness, and some company. As time went by I accomplished my goals, and that made me feel truly good about my self. Volunteering was something I truly came to love doing. Volunteering became to be like my pain reliever; it made me feel good when I was feeling down.
Later on I volunteered some more and made a lot of community services. Through this, I learned that we as individuals can actually make a difference in someone's life. Also, I learned I learned to love and care those around me. Because of this I thank GOD for giving me the opportunity to change, and make a difference in the world. Finally, through volunteering I feel joy and happiness and there is nothing more I want to do, than help others.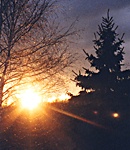 © Christy S., Germantown, NY