My Highschool is Forcing Students to be exposed to Pornoghraphy
September 30, 2020
My name is D. and I go to High School in Vermont. My highschool is forcfully exposing me to pornoghraphy, specificly nude people, in the hallway that goes to most of my classes. One of the naked women has a nazi style armband with the female symbol, which could be found offensevive to men.
The teachers tried to segregate me and told me to either home school or go outside to avoid the hall. I really like my classes and I want to be there. It's hardly different than telling a person of color to avoid racist paintings by walking outside or home schooling. We offered to replace it with art that promotes diversity or an equally good thing to encourage, but they refused. My parents tried to get it taken down multiple ways, but the school repeatedly refused, most recently forcing my mom to contact the governer. We filed a harrasment complaint and instead of sending it where it legally has to go, the superintendant, John Castle, simply consulted the school lawyer and then ignored it.
The Attorney General's Office said that if I were an employee they could help me. But because I'm a student I don't have as many rights as an adult, which is age discrimination. Teenagers should have our rights recognized just as well as adults, but because I'm 14 not 30 I'm being ignored.
I refuse to be exposed to it any more. Tomorrow I'm going to protest the "art", by refusing to walk down the hall with it, and I'll film it and put it on youtube. I don't know what will happen, but the channel name will be NCUHS Student Voice, if you're curious. If you have any thoughts on how to help please say in the comments, and try to have your voice and not just your teachers' and parents' voices heard against wrongs in your school. Maybe if we make enough noise about this they'll take it down.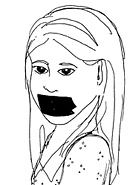 © Liza M., Vineland, NJ