My Disquiet
February 27, 2011
I felt like I was gasping for air, like I'd been underwater too long. I even felt the dampness all over my body. Something was bothering me, I heard screaming.

It was me.

I opened my eyes.

I found myself in the school hallway, lying on the floor. Nothing seemed out of place at first. The teacher sat in her chair, monitoring the halls. There was cheerful banter that sounded far off. It must have been lunchtime. The most prominent sound though, was the screaming. My screaming. But I was numb.

Numb.

Hovering over me was a hazy view of a familiar face: wavy brown hair, two different colored eyes. I made an effort to smile back at her, but a sharp, sudden pain surged through my entire being, down to my very core, most intense in my heart. The pain, the screaming, the tears, and my own blood that she watched me choke on, all flooded into my brain. Now, her smile disgusted me. Suddenly, two small figures floated up to her, and sat on her shoulders.

Fairies?

Of course not.

They whispered in her ears. They created a humming noise that made my head spin. I think they laughed. They laughed with my friend. Her smile grew to reach both ears, and she began to morph into an ugly, devilish creature that I didn't dare try to recognize. I lay petrified in a puddle of blood, as they watched me for entertainment.

I looked directly overhead. I saw another familiar face; one that I knew would never abandon me, or leave me to die. He looked down at me lovingly, and I was at peace. Pictures ran through my head of me giving up my body to someone who would always keep me safe; always keep me a part of himself. I smiled back at him, and all the pain, the anarchy, and the screaming,

It all stopped.

Suddenly, he locked eyes with the devil creature. She giggled. Her voice was beautifully horrifying. She floated away with the fairies, taking my peace with them.

"Death is easy. Come to me," a voice crooned. I felt the warmth of the speaker's breath as they whispered to me. The voice was soft, smooth and inviting. I wanted it. Why did it stop? A shiver rolled down my spine as the truth of the words sunk in. I felt the truth, and succumbed to the darkness.

My angel faded.

I was alone.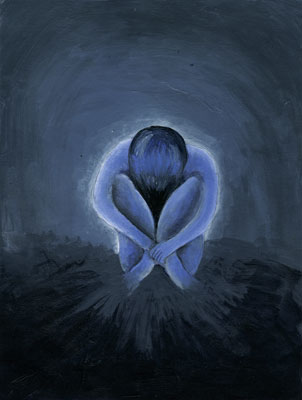 © Becky F., Sacramento, CA