Red on White
February 7, 2019
Death was a curious figure, standing off to the side. He looked out of place, but that was to be expected. He looked around the brightly lit street, I think he was waiting for something. I was just pondering this, when I heard the screams.
It was the not the typical scream, that rang and then was gone. This one lingered in the air long after the screamer had stopped. And when it did stop, I could tell that this person who was screaming was dead. I knew this because Death was gone. I really hadn't thought he would stay long, since he had such important work to do, and yet I thought he would stay longer. Which was I felt oddly sad when he disappeared in a cold gust of winter air.
So, naturally, I had to go looking for the someone that had taken him away. I went strolling down the street, not expecting anything bloody, maybe just an ambulance or some sad onlookers. Which was why I was definitely not prepared for the scene that met my eyes as I rounded the corner.
It was bloody and gruesome, unlike the clean, easy murders on television. On the floor was the mangled corpse of a little girl. She was so disfigured that all I could see were her blank green eyes staring off into the distance. Her small body was laid out simply in a white dress that looked so beautiful against the snow. Ruby red blood was a stark contrast against all the white, and it stained the dress, dripping onto the snow. Because of all the blood I could not see where the wounds where, but that fact made it none the less terrifying.
I remember this now, as I look into the eyes of a murder. Unlike that small girl, he has dark brown eyes that are crazed and looking at everything at the moment. And like that little girl, all alone in the sow, I was not ready to die.
But this man in front of me has other ideas. I can tell because of the knife.
As soon as I had seen the man at the back of the alleyway, leaning over a hunched, bloody figure, I had known. Now was to be my time.
As with the last time someone had died, I can see Death out of the corner of me eye. But this time I can see his face. And seeing that face look at me, with sad expression on it, I realized for the first time that Death was a woman.
She can not have been older than me, but this was probably a lie since Death was not bound by time.
I looked away from death sharply and stared into the man's crazed eyes. While I had been momentarily distracted he had been busy positioning the knife over my palm.
This was not to be an easy death by any means.
I just hoped it would be over quickly. But it wasn't.
The man started with my hands, slowly carving little patterns into them, each even more intricate as the last. For a split second i was struck by the beauty of it all, but then the pain hit. This pain was a thousand times worth then a skinned knee or if one go their finger stuck in the door. It was excruciating.
Once the man is done with my hands, he moves up my arms, covering up my mouth with his left hand so no screams can escape. All I can do is cry and cry, small tears sliding down my face and hitting the ground.
It takes so long for the man to be done with my arms and to move on to the rest of my body. He leaves no part of me unscathed, and soon I am lying naked in the snow, surprised that my death had not yet come. Again, out of the corner of my eyes I can see death waiting patiently for the man to be done. In that moment I resent her, why can she not just take me.
In the back of my mind I know that hours had passed by the time the man is done, but it feels more like years. And once he is done, he holds the knife directly above my embroidered heart. On the skin above my heart he has traced the most intricate design, but I can not see it.
Right now, my soul is bathed in pain, and my body is covered in blood. At this point I am so far gone that even if this man does not kill me, I would surely die. So when he stabbed down into my slowly beating heart, it was a welcome relief. I can feel myself dying, as I watch the man stumble away and look down at his handiwork, knife still imbedded in my heart. He breathes but one word into the night, and then he is gone, leaving me to die in peace.
"Beautiful."
Suddenly I hear shouts, but all I can comprehend is Death sweeping towards me in the deep snow. Her long strides cause her black cape to billow out behind her and I try to smile at the sight, but it hurts to much. Then she comes to my side, leans down, and kisses me full on the lips.
As soon as her lips graze my lips I can feel my soul being sucked from my skin, and in that moment I am dead and gone. The last thing I do before I'm gone for good is whisper my last words into the frigid night air.
"If the stars could weep, they would cry for me."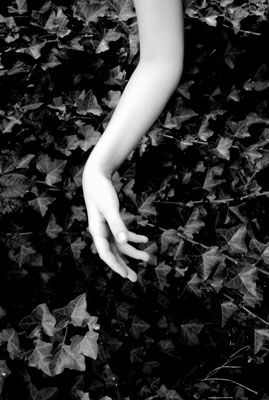 © Sarah M., Blairsville, PA