The Light
March 2, 2017
"I can't believe you lost this new client! It was your responsibility to make sure that they sign the deal, we need the money." I yell into my phone as I roll to a stop at the junction. I hear tires screeching. A loud crash. And then... nothing. Just light.
***
I was in a trial to decide my fate: life or death. It had never occurred to me that this was how my life would end. I always imagined myself dying old, peacefully while I slept. I felt anxious, knowing that I'd go straight down to hell if the judge proves me guilty and not worthy of a second chance. I have committed many sins, but I never believed they would come back and haunt me. If I get to live, I promise myself that I will become a better person, and I will balance out all the wrongs. I've never wanted a second chance more than I want this. What will my wife and two children do if I die?
"Please take the stand, Jonathan Sullivan," Ezra instructed in his deep voice. He was my lawyer, the only one in court on my side. I got up from the bench and headed towards the witness stand, where I took my seat, ready to be questioned. I knew this would end badly, even though Ezra was the best lawyer in all of heaven.
"Is it true that you…" They repeated the phrase hundreds of times, every time I had to say yes, it hurt, hearing all the things I had done. Was I really that horrible of a person? Listening to Ezra and the judge list the things I had done, made me realize that I deserve to go to hell, even the small things I did every day were horrible to listen to. I shouted at the coffee guy every day, it had just become routine. I just didn't want black coffee, I can't be the only one who's done this. Am I?
"Don't you think he needs another chance? What if he changes, we'll never see that other side of him if we send him to hell," Ezra tried to persuade them. Their faces remained strict, showing no sign of what decision they would make, despite the impact it would have on my life. However, I could tell they didn't like me.
"He's going to be hospitalized for almost a year, and leave the hospital in a wheelchair. I think he will have learned his lesson by then. We can observe his behavior in that first year, if his behavior doesn't change, we'll just give him a heart attack, kill him off like that," Ezra strongly defended me. The prosecutor and Ezra went back and forth, deciding my fate. Both sides listing the horrible things I had done, the only difference in their argument was that one was condemning me, while the other was looking at the reasons to let me live. The only way was for me to change for the better. It seemed as though this wasn't going to end well for me. I could see the judge rolling her eyes, she was tired and wanted to leave. I knew she was going to make her decision very soon and sure enough, she did.
"I've never done this before," she held her breath, followed by a long pause. Does she normally give people a second chance? I was shaking. My fate was being discussed, and I couldn't do anything about it. "I'll let you live!" she said painfully.
***
Beep...Beep...Beep… My eyes opened to a blinding light. Through blurry vision, I noticed nurses all around me clearing up the wires and paddles attached to the defibrillator. A man in white, reassuring a huddled group of people that I was going to make it but I was paralyzed from the legs down and would never walk again. However, the world around me shifted into focus and I saw that the huddled group was my family coming closer to stand around me. Tears welled up in my eyes as I saw their relieved and smiling faces. After greeting each one of them with a loving and crushing hug, I promised myself once again, and Ezra, if he could hear me, that I would change, not just for me, but for my family.
I did change. I became very close friends with the elderly woman lying on the bed beside me, who told me her long and detailed stories about her first love, about how they met, and all these little things that she noticed about him. My nurse and I also became close, during his daily visits to check up on me. During those brief visits we laughed and joked around and our smiles were wide and full of happiness. I began to cherish every moment I had with my family when they came to visit, and as a result, I had never been closer them. Despite the fact that we didn't live together for the time being.
After that first year passed and I was released from the hospital, the first thing I did was wheel myself into the coffee shop and order the same thing I always did. This time, however, I left the coffee guy a huge tip after paying for my coffee.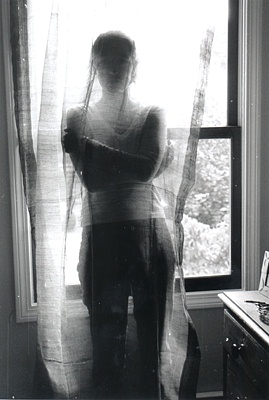 © Cerys W., Marblehead, MA