Dead Beauty
March 15, 2009
I walked in to the warehouse and caught a glimce of my reflection. Black hair, long, bangs hung to my eyebrows. My eyes golden. My skin was pale white. I ran my tongue across my teath and I cut my tongue on my teeth because they were so sharp. I was half vampire, and half witch. I am a Vampire Hunter.

I look around the room and there he was the full vampire that tried to kill me last night. He has black hair, over the eyes, it was straight. His eyes were a glowing choclate brown. He was six foot and slim. He was muscular. You could tell everytime that his muscles flexed. Then, suddenly his eyes were on me. Every vampires were to be exact. I slowly walked over to the young man. He smiled at me.


"Hello, Erin.' He said sweetly.



"You seem calmer than, last night and you don't seem hunger."


"It's your fault that you smell so good."



"What's my hcases of getting out of here alive?"


"Are you flirting with me Erin?"




"Are you temped to bite me again?"


"I'm Darren." I smile sweetly. He leans down and is inches away from my face. i raise an eyebrow.




"What do you think that you are doing?"


"This!" He didn't give me time to respond to anything. He grabs me by the arms and presses his lips to mine............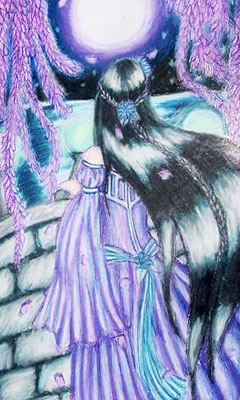 © Kelly K., Fort Collins, CO