Flying
February 17, 2014
The cold wind wisped against my face, causing little red bumps in my cheeks. My breath was visible and misty as I watched it waft away from my lips like a small puff of drifting smoke until it disappeared into the dry, wintery air. 'I wish I had cardboard.' Even my thoughts were heard as a shiver. Cardboard would have been wonderful for my numbing feet, which I kept cringing to remind me they were there.

As hard as it was, I ignored the temperature and looked over edge of the cliff; about a hundred-foot drop. That was deadly for the average person, but I, on the other hand, would be fine.

I clenched my teeth, although I could still feel a slight vibration run through them as I shook violently. 'No time like the present. But then again, maybe I should wait till I have the basics down? No, this was the perfect time, and no one was around. It had to be now.' I unfolded my arms. They had been densely pressed against my white prom dress, which blended in perfectly with the snow. 'Besides, you promised you would be ready before your birthday.'
Assured of my decision, I began to inch forward, my toes hanging on the edge. A wind pushed me, urging me on, like a silent crowd waiting for a reason to scream and hold up banners and give standing obviations.
I jumped.
I was free falling, head first, an upward draft doing next to nothing to stop my plummet. Heart racing, adrenaline pumping; it was everything anyone every one ever said it was and so much more. The fear was commanding my brain as it rushed to figure out what to do.

Instincts kicked in, and I was copiloting my own head. 'It worked!' two white fluffy wings emerged between my shoulder blades. The current caught them and I was stopped ten feet from the ground. Back in control of my mind, I waved them, shifted them left to right, discovering the controls. I glided, seeing the ground below me like a white blanket, the sky no different, and ahead a white sunset. I did it. I finally did it. I was flying.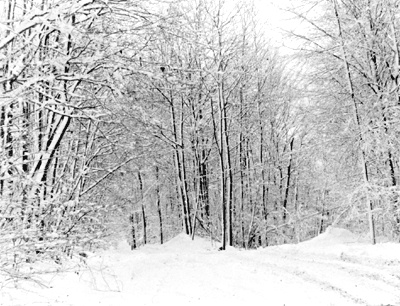 © Thomas S., Portville, NY