Masquerade Journey
August 3, 2012
Chapter One

Inside The Mask

Drip drip drip



Water from the sky continues to fall on my window as I lie still, but very much awake. The door creeks open while flashes of light make the room visible for my eyes.


CRACK!

Drip drip drip


My eyes focus on the ceiling as my mind wanders about. The material that I am concealed in does make my itch. I throw the discomfort able covers off and sit up from my cold bed. Another crack and another flash, I step down onto the icy wooden floor.


Drip drip drip drip


I stand alone in the darkness as I walk swiftly to a restful chair. I sit down and stare blamelessly at the colorless walls. My fingers glide over worthless objects that I had left on my desk. Thunderous noises pain my tired mind and shake the empty room.


Drip drip

BOOM!


I inhale impatiently, waiting for the rumble to stop and for another strike of light. The commotion out side increases vigorously. Does the nature of this world know that people are trying to sleep in this ungodly hour?


People not including me.


Drip drip drip

Flash!


Finally! Fro a moment the glass on the wall reflects my image. I am awfully proud of the way that I have turned out, a success in my personal opinion. Another flash of lighting, which gives me another look, at my mask of a face. The hair on the head is boring blond, more darkened than I have wanted for. The skin is a not to pale and the shape of the face is round. Over all I am glad that it does call for attention.

My eyes pierce through my dull masquerade and it shows the only sign of the real me. My eyes originally should have been changed; they offered to change them to a dull brown. Though I couldn't have departed from navy blue eyes. They appear so dark that times they appear a shade of black.

After all, eyes are the window to the soul.



Drip drip drip


"What are you doing awake?"

I twist while she stands there in her night robes standing in the hall way. Thunder clashes in the background. She flickers the light bulbs on and my eyelids close at the unexpected pain. I shrug to answer her question and turn back to the mirror.

She sighs, "Yah the storm is a little bit loud but im sure you'll be able to sleep through it."

I disregard her last statement. She walks over closer to me so I can see her reflection looking down at me.

"Is there anything bothering you?" She asks feebly.

I can't believe a woman of her age could be so stupid at times. If I did have anything bothering me, the last thing I would want to do is talk about it to her kind.

I continued to stare at the reflection until she yawned and told me "Well, im going back to bed, and you should too."

I watch her reflection leave the room leaving the light on.


Drip drip drip


Her kind is so blind. They only see what they want to see, and that's the best in people.

That's their most crucial mistake.


I saunter over to the light switch on the wall. I pushed it down and the room became all dark.

I amble back over to find the bed, but I turn to have one final look at my reflection for the night.

I turn and smile, because even though there was no flashes of light, I could still notice my eyes glowing navy blue in the dark hours of the night.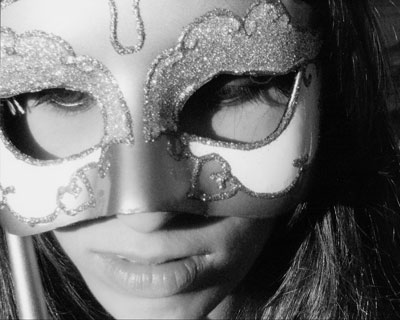 © Becca W., Greenbrae, CA