The Experienced Mourner
MAG
May 10, 2012
It's a morbid thing to be well-versed in, but she's there regardless, every time, the most experienced of all of the mourners. She's seen the deaths of friends, family, her husband, her child. She has a stack of funeral pamphlets on her bedstand, ranging from her very first (her mother's death, a pretty black and white picture of Mary Holland celebrating her short life) to the most recent (last Tuesday, Ethel Coppinger, her elementary-school friend. She still remembers Ethel in pigtails with that toothy grin, but the final ­reality was a brittle, 85-pound woman just past 88 and bruised beyond recognition, though not on purpose. She was just frail, that was all. The nurses did the best they could).

Before her husband died, she had lived with him in a basic little farmhouse he had built with his own hands, on his own land. After he died, though, she couldn't afford it. ­Instead she gathered up her belongings in a few cardboard boxes and a dingy suitcase, moving to a small one-bedroom townhouse. She's lived there for 21 years now, and that kitchen has seen more sundrop cakes, apple pies, and checkerboard cakes than any other. She never puts her name on them, but instead leaves them on the table in the kitchen of whatever funeral home or fellowship hall she's visiting. She doesn't want thanks for doing what she thinks is obligatory.

More recently, she learned of Brother Roger Cox's passing, and so she took her mourning dress out of the closet. Brother Cox had been her pastor for ten years, a long, long time ago. He had married them, officiated at her stillborn baby's funeral. Now she slips on her kitten heels, ironing her gray dress, and driving herself to his funeral.

I need a perm, she thinks, looking in the mirror. She used to go every two months, but she hasn't in a long time. Her curls have fallen flat and the unattractive bald spot she tried to cover for years is beginning to show. She missed the viewing of Brother Cox's body, but she will not miss the funeral. She has not missed a funeral in her life.

The sundrop cake sits, still warm, in its container beside her as she starts up her husband's old Ford. He did not leave her many possessions, but she cherishes what he did, and this truck has survived. Still, it is wheezy and she knows it will soon be going to the junkyard, the cemetery of Fords and Chevrolets. In death, it doesn't really matter whether you're a Ford or a Chevy. Your lineage doesn't matter to the big guy up there, she supposes.

She gets to the funeral home 30 minutes before the service, as she usually does, and toddles through the crowd of mourners with her cake, destined for the kitchen. As always, she lays it without a sticker on the counter, and leaves. No one notices the elderly lady, like a slip of air, in the mass of people.

It is a pretty casket they've picked out for the ­pastor, she thinks, standing a few feet from it with her hands clasped demurely. They've fixed his body up so nicely. You could hardly tell he'd had pneumonia off and on for the last two months of his life. Arrangements of flowers litter the ground around the casket. Peonies, calla lilies, and fat roses are arranged in pretty bouquets. Her wedding bouquet was full of calla lilies. It's funny, she realizes, how mourning and celebration can go hand in hand.

She is at the end of the funeral procession as they make their way toward the cemetery. Cars respectfully stop to wait until they pass, and that makes her smile. It is nice to realize some people still have ­respect for the dead.

They are burying the pastor in a familiar spot. She has seen it somewhere before, and that is when she realizes they are burying him on the same side of the cemetery as her husband. She has not been to his grave in a long time. She has never left a funeral early to avoid something, and she will not begin now. She is too old to think she can avoid the inevitable.

That's funny, she thinks, stepping out of the car. They have recently buried someone next to her husband. The grave is fresh, and she wonders whose it is. Stepping away from the burial for a moment, she takes a quick look at the headstone. Her eyes widen.

"My, oh my," she whispers. Next to her husband's headstone is hers. It reads:

Ruth Caroline Howard
May 17, 1923 – June 12, 2011

Today is June 13th.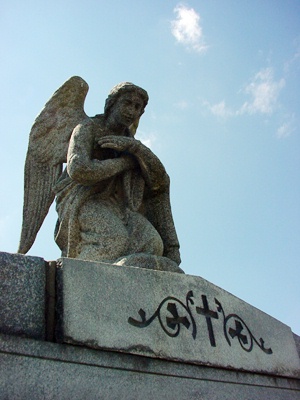 © Greg K., New Lenox, IL