Forgiveness
November 1, 2011
The beating of his heart was evident as he slowly opened his eyes. He lifted his quivering hand to explore his surroundings. His body felt heavy and weak. He peered into the never-ending darkness. As he struggled to sit up, a loud "thunk" was heard as his head connected to something hard.


Noah Coleman had no idea of his location.coulddn't even guess how in the world he even got in this predicament.
He relaxed his shoulders so that the pounding in his head would cease. He fingered the wall that imprisoned him. The cold, smooth surface shocked him in contrast to what he imagined. "Where am I?"


His mind wandered to the events that just occurred. The remembrance of his younger sister's funeral created tears in the corners of his eyes. His stomach clenched as the thoughts of Larissa flooded his memory; the bright, vibrant, eleven year old girl who was not intended to die. He closed his eyes recalling that fate filled day in which Lissa fell head first into the deadly, shallow water. Her screams of delight and anticipation turned into screams of terror. The way her lifeless body rose to the top; how a second of your life, which feels like eternity, drastically changes your life forever.


Ever since, all he could think about was "what if" or "if only".coulddn't possibly forgive himself. It was his job as an older brother to protect and care for her. But, he let her down. He should've stopped her, told her wait so he could check the water. If only he hadn't been distracted by minor fixation of another girl, he could've saved her.


Noah gradually brought his mind back to focus as he struggled to regain composure. He had to figure out his surroundings and accomplish getting out. He slid along the floor so he could reach a level area. Noah steadily rose to his knees and looked around. The darkness was all his vision detected. He took a deep breath and stood. A wave of exhaustion swept over him. Noah stumbled a few times trying to regain his balance. He took a couple timid steps forward, as he did his face smacked into a wall….or so he thought it was a wall. His hand reached out and brushed the surface before him, which felt cold, and rough like a stone wall. He turned around, spying a dim patch of light. Noah walked slowly forward, toward the light. As he got closer, the caves entrance was visible. He easily breathed the night air. Taking a step out of the cave, his feet sunk into cool, wet substance…..it was sand. The moonlight painted a beautiful portrait on the still water.


Noah gazed in wonder as he tried to figure out where he was. A flash of recognition crossed his face as he remembered. With all his confusion, grief, and frustration, he'd decided to spend the day by the lake, where his sister breathed her last; giving in to the emotions that had flooded him ever since the accident.


His imagination was playing tricks on him. He swore he saw a thin shadowy figure glide over the dim lit water. He shook his head and blinked several times hoping it would go away. But the form became more clear and profound.


"NO!" it couldn't be, it wasn't possible…but the ghostly shape had taken form of a little girl…his younger sister...Lissa.


He gaped in amazement as she swiftly moved along the shore. Noah could definitely recognize. The way her brown curls moved in the wind. Her eyes lit up when she smiled, the dimple in her left cheek.


"Noah its only me….Lissa" Larissa's pale form steadily moved forward as she spoke.


"We have to talk, I don't like the way you handle my passing. You blame yourself, curse everybody who talks to you, and you definitely aren't healthy."



The shock on Noah's face was very obvious as Lissa went on about his living habits.


"Lissa, you have to understand something. You died because of me. Of me not paying attention to you, not watching you like an older brother should. I let you down. I'm ashamed, embarrassed, GUILTY!" the last word was nearly a scream by the time Noah took a breath.


"Come with me" Lissa reached out her hand to grasps Noah's. "Close your eyes"


Noah wiped the tears that were streaming down his face. The instant Lissa touched him, he felt a gust of wind surround them. Sunlight heated his closed eyelids. How?


As soon as he opened his eyes, it was different. Because of the changing of the time of day, everything was familiar. The beach, the lake, the rope swing where Lissa had jumped from, all of it brought back horrible memories.


"Lissa, what is the meaning of this?" Noah shot a confused glance in Lissa direction.


"Just watch and listen." Lissa hushed him with a touch of his shoulder.


Noah looked around wondering what she meant. But it became clear when he heard laughing from a distance….a laugh from a little girl, and it wasn't from right next to him either.


"wha-" Noah face turned, peering in the direction of where It came from.


A figure appeared from behind him. Identical to the one next to him, only human. She was gazing in the direction of where she had came from, laughing hysterically. "Noah…hurry up, mom said we didn't have much time."


Another figure appeared. This one was himself. The look of pure boredom was all over his face. "Go ahead Lissa I'll stay here and watch." As he motioned for her to go along he pulled his cell phone out of his pocket. Reading the texts from his girlfriend. "Go on, and don't take too long"


The ghostly figure of Lissa turned to the present Noah and said: "Noah I want you to understand: everything happened because that's the way it went, Not because you didn't care. I want you to be the Noah you were again. You didn't do anything wrong Noah. Please understand, accept it. I love you, that's why I'm here I need to be able to move on to make peace with you." Lissa was slowly drifting away as she spoke.


Noah shoulders were shaking as he whispered the words pouring out of his mouth. "Lissa….It hurts so much every time I go back to that day. If only I went with you, I should've been there. I am so, so, sorry." Sobs were wrenching from him now, shaking his whole body.


He turned back to scene before him, Just as the human Lissa was about to swing from the rope.
"NO!!" his voice rang across the shore, but deaf to the little girls ears. The movement of the water was still again when her unmoving body came up, but this time, Noah saw her spirit float up and smile and wave and disappear across the water.


Noah tried running after her, to make her come back, but his body was getting weaker and weaker. He slid down to the ground and cried until tears refused to come. "I am so sorry Lissa" he whispered as his eyes gradually slid to a close.


Noah woke up inside the cave in which he'd come to relieve his memories of Lissa. For some reason a feeling of pure peace had settled over him. He felt happier, more alert. As he walked out of the cave he saw that darkness was settling. He knew he needed to get home. But this time he didn't dread the emptiness it held.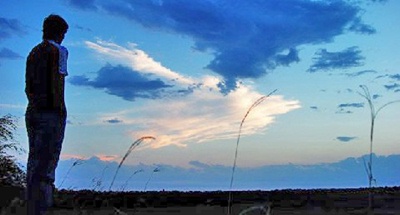 © Stefanie K., Katy, TX