A Wolf And Her Master (chapters one and two)
May 3, 2010
Chapter one: Lost

An outcast of society, a freak of nature, a young lycan girl wandered through the forest alone, lost. She'd been born a werewolf, birthed from a mother who had been turned before the girl was even a thought. But now that she was a teenager, people were starting to notice how different she really was. It was normal for children to run around and act like animals, but for a high school student to do the same was like taboo. She didn't understand why people hated her or feared her. She was friendly and gentle… well, most of the time. Other times, when she got over-excited or angry or scared, she would bite and attack people. But she'd sworn she'd never kill a human, or consume human blood.
She'd lived a happy life in a decent-sized town, in a nice little house, just her, her mother, and a special caretaker that was excellent at keeping the family's secret a, well, secret. But one evening, the child had become very angry. She had been having a bad day all day long and wanted to have dessert after dinner.
"No, my darling" the girl's mother said. "You had dessert last night, none tonight. It'll keep you awake."
The little girl became enraged. After all she'd been through that day, she couldn't even have a special treat before bed. Before she could stop herself, the child transformed and attacked her mother, blinded by her rage. When she realized what she was doing, it was too late. Her fangs were deep within her mother's throat, blood all over the wolf's fur. Shocked by her own actions, the girl ran away from the scene in horror, locking herself in her room for days. Nobody ever learned the truth of what happened, thanks to the caretaker. Over time, the girl had calmed down about it and began eating again. Her mind blocked out all memories concerning the girl's mother, making it seem to her as if she'd never had one.
But it didn't matter now. She was alone, chased out of the town she'd been born and raised in. People had found out the truth, though she still wasn't sure how. It was all she knew, and now it was gone. The forest was dark and cold beneath the night sky. A cold breeze blew through the trees, making the poor 17 year old shiver. She grasped her arms, moving her hands up and down in an attempt to warm herself. She was so cold. Above her, a great-horned owl hooted loudly, making her jump. The girl whined, getting scared. Never before had she been on her own, especially like this. Never before had she been in the woods. She didn't know what anything was, or what sounds came from where. The more she thought about how alone she was in this cold, dark, unfamiliar place, the more afraid she became.
Her stomach growled as it begged for a long-needed meal. She had no idea how to actually hunt or find food, and had been on her own for three days. She sniffed the air, all the smells surrounding her going into her nostrils. Turning, she spotted a rabbit and grinned.
"I bet I can get it this time!" she said to herself, shifting into her wolf form. White fur sprouted from her skin and turned her own brown hair white, and her mouth and nose extended into a muzzle. Her blue eyes turned as silver as the shimmering stars as her hands and feet turned into large padded paws. Her spine extended and formed a tail and her teeth increased and size, becoming sharp and powerful. But she was larger than the average wolf, which terrified the rabbit more. It took off running and the werewolf girl chased after it. She was able to keep up with its speed, but couldn't follow its maneuvers. Before she knew it, the meal was gone. She sighed and resumed walking, pausing after a while to shift back.
"I'm so hungry…" she whined, putting her hand on a tree to rest for a moment. Behind her, she could hear footsteps approaching, but she pretended she didn't notice. Big mistake. As she finally turned, pretending to only have the hearing capacity of a human, something struck the back of her head and everything went black. She fell to the ground, unconscious.





Chapter two: Vampires

When she awoke, she found herself lying on a bed inside a dark room. She groaned in pain and rolled her head around, trying to rid herself of her headache.
"What are you doing here?" a stern male voice asked.
"Huh? Who's there?" the teenage girl asked, looking around. But even her werewolf eyes couldn't see anything. No… it wasn't that the room was dark… she was wearing a blindfold.
"I'll be asking the questions!" the man snapped. The werewolf sniffed. There were at least three, four people aside from herself in the room. All of them male.
"I… I got lost.." she said quietly.
"What is your name?"
"Jovali… Jovali Priya.."
"Are you human?"
She paused, biting her lip. It was a strange question to ask. But how should she answer?? If she said yes, and it were others like her, she could be in danger. But if she said no, then she'd be in even more danger if it were a group of humans. "Y….yes.."
"Don't lie." A second voice said. "We can smell that you're not."
The blindfold was removed and she saw the room was dimly lit. Standing before her were four men, as she had guessed, each looking to be a couple years older than herself. There stood a set of twins with chestnut-colored hair, one's hair a touch darker than the other's, and a handsome young man with dark brown hair. But there was one in particular that caught her eye. A distant man with white hair and red eyes standing in the far corner. Albino? Unlikely, as all the men in the room had red eyes. This realization frightened Jovali, as she knew red or yellow eyes were abnormal for a human. She tried to move, but quickly found out that her feet were tied together, and her hands tied behind her back. She looked up at the three men standing over her.
"If you're not human… you must be a vampire, right?" one of the twins asked.
"Actually, Halias, that's not entirely true…" the dark-haired one said. "there is a such thing as a lycan, you know.."
The other twin looked surprised. "Lycan!? But they only exist in stories!"
"Vampires are real, aren't they, Lucas?" Halias said. "So why wouldn't werewolves exist?"
Jovali watched them talk, trying to think of a way to escape. She began struggling against the ropes, stopping instantly with fear when the three men looked at her.
"Are you uncomfortable?" the dark-haired one asked. "Answer our questions truthfully and we'll untie you."
"O-okay.." she said.
"Are you human?"
"N….No.. I'm not.."
He smiled. "In that case, what are you?"
"I… I'm a werewolf…"
They looked at each other.
"Why are you wandering around the academy?"
She blinked. "Academy??"
"Yes. This is a school for vampires, and humans who support the existence of vampires. Not for werewolves."
"I honestly didn't know it was here…"
"You were only half a mile from the entrance gate and you expect us to believe that you were completely unaware of it?"
She nodded. "It's the truth."
"Very well. Untie her."
Lucas reached over and untied Jovali, making her flinch slightly. "your hands are cold.."
Lucas smiled. "That's how vampires are. Our skin is always cold." He said. "But you…. Your skin feels a little warmer than the average human.."
"I've always been like that.." she said.
"Maybe it's normal for lycans.."
Jovali stood up, rubbing her wrists. "So.. who are you people?"
"My name is Kain." The dark-haired one said. "The twin with the slightly lighter hair is Lucas, and the other is Halias."
"what about him..?"
"Oh, that's Zero." Kain said. "He's mainly just here to help me supervise these two."
"I'm keeping my eye on you as well, Kain, you demon." Zero said.
Kain sighed. "Call me what you wish, but you can't deny the truth. You are one of us."
Zero just glared at the back of Kain's head.
"We're all vampires, including Zero," Halias said. "But unlike us, Zero is in complete denial. He hates vampires and now he is one."
"Oh…" Jovali said. "I see…"
"So tell me, Jovali," Kain said. "Why were you wandering about the forest alone at night?"
"I got lost.." she explained. "Three days ago, I was chased out of my home when my neighbors found out I was a werewolf.." she sighed, her body chilling at the memory.
"Well… since you're here now, we'll have to take you to the headmaster." Lucas said.
Zero stepped forward and looked down at her, almost unimpressed. "I'll take you to him." He said.
Jovali nodded once and followed him out of the room. "Um… why.. do you hate vampires?"
"Because they're evil monsters that kill innocent humans." He said, not even looking at her. His voice was full of hate.
"But… you don't seem that way.." she said lightly.
"I'm not like them. I'm not one of them." He growled. "I wasn't the one to kill a family of humans."
Her eyes widened slightly as an image flashed in her head. She couldn't see it clearly, but it struck fear in her. She shook it off and kept walking until Zero stopped at some double doors. He opened them and revealed a large room with couches, chairs, bookshelves, a table, and a desk. Behind the desk was a man in his 40s, wearing a suit.
"Ah, Zero." The headmaster said. "Come in, come in. What can I do for you?"
"There was an intruder, she was apprehended and I'm bringing her to you." He said, leading Jovali in. "She's a lycan."
The headmaster instantly looked quite interested. He stood, walking over to Jovali and thoroughly looking her over. "Starved and dehydrated.." he muttered to himself. He pointed to a certificate on the far wall. "Can you read that from here?"
Jovali looked at it. "We hereby award this certificate to Headmaster Jahan Matias for the best organized and controlled vampire-human alliance school in the country." She said.
"Excellent eyesight.." he said. "Now, close your eyes. Zero is going to cover your ears, and when he uncovers them, I want you to point to where you think I'm located by sound alone."
As instructed, Zero covered her ears and Jovali closed her eyes. Jahan sat on the couch and Zero uncovered Jovali's ears. Eyes still closed, she pointed directly at Jahan when she heard him snap his fingers. The process was repeated, but she failed to point him out correctly when he stood behind his desk.
"Hearing needs work…." He said with a frown. He pulled out a jar of liquid and held it in front of her. "What is the fragrance?"
She sniffed and thought for a moment. "It's…. lavender?"
"Wrong." He said, frowning. "It's rosemary. Your sense of smell has no education behind it."
She sulked a little, looking ashamed. But the headmaster gave her an encouraging smile, placing a hand on her shoulder. "Worry not. We can take you in and teach you how to hone your skills."
Jovali blinked, a bit surprised. "You'll… take me in?" she asked, unable to believe her ears.
Jahan nodded, smiling. "Of course. You'll be the first werewolf to attend this school, but I think it'll be very educational for all of us."
Jovali was so happy, she hugged him, her tail appearing out of thin air and wagging rapidly.
Zero watched, not seeming to care in the least. Jahan, on the other hand, was rather amused by the girl's excitement and patted her head.
"From now on, this school is your home." He said.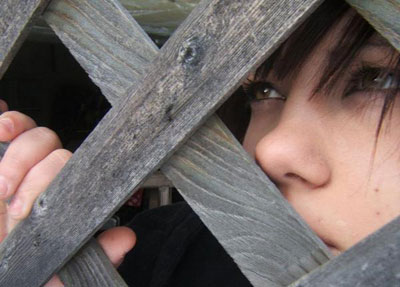 © Krystal B., Bloomingdale, IL