Holding Me There
March 24, 2010
She kept her head up, not daring to cry. But he'll call her bluff, he always has.

Above them the moon shone dully, illuminating their faces with sickly grey hues. Humidity crowded the air and kept the fireflies at bay. In the lawn stood two lone figures, trying to see everything but each other. Time revolved around this very location as sentences formed in her mind, none of them a satisfying demise.

He tried not to see what he had done to her but the image overwhelmed him. His knees buckled into the dampened soil as she gently shifted her weight to avoid touching him. Words escaped his pale lips at a quick pace, begging for her forgiveness, but she ignored them, knowing they were more for himself than anyone else.

The whimpers he released slowly dwindled. She had remained motionless, watching him with a complicated hatred. Around the bend, a car drove much too fast and the beams shot through her onto him. The light only confirmed his vulnerability as his frail body quivered in the nighttime dew. This vehicle, this reminder, had made up his mind. Slowly untangling himself, he stood patiently at the edge of the ageless road as silent tears slid down his cheeks.

Growing restless, she could do nothing but watch in smug shock as a truck came loudly their way, a monster in the late fog, and the boy with heart pounding chameleon eyes stepped before it. Exactly as what had happened to her years ago in his drunken state. The tires squealed off the lanes and the front end met with a nearby oak tree.

His body remained still.

Nude feet traced their way lightly next to it, waiting for his soul to rise as hers had. But it never came. "Nobody's really here yet you look so lost. It's time to leave this all behind." Her words went with the wind as she walked away, a ghost finally free.

He never did call her bluff that night, after all.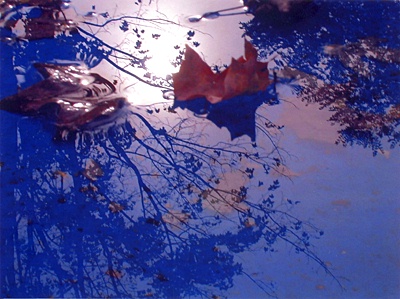 © Angela B., Holland Patent, NY