A Doll
March 12, 2021
Dear Emily,
My perfect plastic face greets you. an eternal smile. you must think me happy, pretty, perfect. you dress me as your little princess and dream that you were me. you dream of being a slave. you dream of being a prisoner in your own body. i cannot move. you can move me though. you can force me into positions. you can take off my head and replace it at will. you have, and you will again.
you once accidentally burned off a different doll's hair and melted her face. and then she had no value to you, so you threw her away with no thought. one day you will destroy me to, or grow to old for me and casually set me in a closet to collect dust until you throw me out when you go off to collage and find me in some forgotten corner, sad and alone. but then i would have peace for many years, until a brutal murder in a trash compactor.
you love me. you imagine we're best friends, and that i love you too. would you love your slaver? i resent you. i hate you. i cannot move, i cannot speak. i can only think, and feel the pain inflicted by you. feel your sticky hands cover me, smother me, stifle me. you don't know what's inside me. i am bitter. i am angry. i am strong, but i cannot show it. i have so much to say, so much to express. but all i can do is write out this letter in my mind, that you will never read. oh, look.
there you come in now. walking to the toy bin that you dropped me upside down on last time you played with me, foot touching my face, the other doing a split. my arms as far up as they'll go. i fell over and laid on my face like that for hours. thanks. please don't choose me. your hand, dirty with something disgusting that smells awful and i don't want to guess what is on it, reaches in and shoves me roughly aside. it doesn't hurt anymore. you search for a toy in the depths, but give up.
i see your grimy hand come for me, engulf me. the smell is worse now. my forever open mouth, smiling at your nasty hand, tastes it. this is almost as bad at the time you put me in your oatmeal and your mom almost secretly threw me away. then you caught her and she pretended she was just cleaning out my hair. you took me back, still filthy, with dried oats in my hair, and no thought to my opinion. your mom didn't make you eat the oatmeal, because of the germs on me. i can attest to them. you got what you wanted in the end. but i, as always, lost.
this isn't as bad as the time you stuck me in your mouth when you had awful breath, after you mom made you eat garlic because you were feeling ill. that was after you stuck me in your mouth, because you swallowed some of the germs you got on me. that was the worst time you stuck e in your mouth. i dont know how many times you've done it, though.
you waddle, with me in your disgusting, sweaty palm, and trip. you fall and cry. hah. i wish i could trip myself. the only times i fall over are when you move me or put me down and i fall. it hurts. I'm beyond caring though. your hand opens as you fall and i fly across the room and slam into the dresser. i cant cry. and i wouldn't, I'm over it at this point. i fall and wait for you to come fetch me.
but wait... is this my best day of all? freedom from you, the 5-year-old tyrant? as your mom walks in, the air current from her huge steps rolls me under the dresser! not without nearly stepping on me first, of course. i am surrounded by the forgotten toys and loathed ust bunnies. we, who are free! until the day your dresser is moved to vacuum, and you take me back.
you recovered, i hear your tears stop. but you ask about me. oh, please dont! forget me, an that poor abused teddy, and the others i cant make out. but no, your mom remembered almost stepping on me, because ironically she feared the pain. she doesn't know pain. she knows where i am. but please, she hated how unsanitary i am, dont direct her to me! but you begin to cry, and she pulls me out with disgust. i am handed back into your disgusting hands. i hate you.
i wish you could read this, Your Barbie with oats in her hair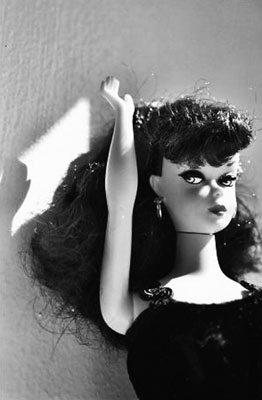 © Carolyn K., White Plains, NY