Childhood Boy
January 15, 2009
I remember the exact look on his face. And my exact feelings and thoughts at that moment. I remember everything. When his green eyes met mine I nearly looked away, but he held me there like Dracula, holding one of his victims under a trance. "Will you be my girlfriend?" That did it. If it wasn't enough he was holding my hands and standing barely a foot away, that did it. my heart raced with the blood pumping through my body. I had to stay focused. Was this really happening? I've liked him since I was little and now, he's honestly asking me to be with him? I couldn't believe it! But I had to stay calm. So I let myself relax and smiled a very sweet smile. "Yes of course." And we kissed.
He had the sweetest kiss. We sat there, for hours, talking and kissing. Holding hands and snuggling. When he left that morning I could barely wait until I saw him again. But the thing is, I didnt see or talk to him for days. I'd lay in my bed wondering if that just happened. Was I really dreaming? Did I just make it up because I wanted him so bad? The days in school were a blur and the world around me seemed mystical. He dissappeard, again.
You see, I had liked him forever. I had always tried to get with him but it never worked. Right when I got the slightest hint he like me, even a little, he'd ask out another girl and ignore me for months. Then, he would come back. And I would be happy, and it would happen again. He would dissappear, and I couldn't stop thikning about him. I never could stop thinking about him.
And that night he told me he had liked me but always feared my parents or brothers telling him to stay away. I didn't care. I wanted him. And he always thought I was cute. But he just was afraid to get close. And I was the only one that made him nervous or stutter. He didn't understand how I could do that and not anyone else. And he did the same to me.
But, like every other time I thought he was dissappearing all over again. And like magic, he emails me. "can i come over?" "Of course!" And when he appeared at my door. I had that same, julting and turning feeling in my gut that I got, when he'd show up and my front door, when we were kids.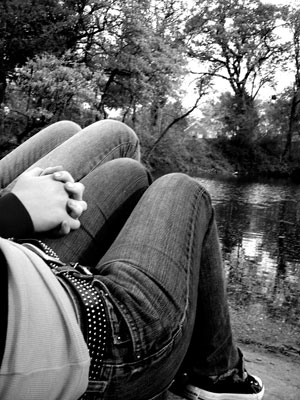 © Lauren R., Edmond, OK