A Shakespeare Love Story
January 26, 2013
Part I – merry wanderers

"I am that merry wanderer of the night," said Puck, of spiteful Oberon's kingdom; but he might as well have been speaking of you, because you are like Shakespeare, Shakespeare, written on air. We meet under the streetlamps at midnight and you flick your cigarette ashes into the darkness, and I imagine them as the sparks that fly between us when we touch. I wait for you to say it, say it with your eyes, but you only look at me with that half-hidden smile that you wear so well--and I think, tomorrow, tomorrow, tomorrow you will change and look at me with the moon on your brow. And I wait, I wait, the tips of our fingers just barely connecting in the golden haze of the streetlamps.

Part II – prince of darkness

They say that the prince of darkness is a gentleman; and no truer gentleman I've met but you. Your trimmed smile matches your tailored ties, and your smile is glossier than gossamer; and your eyes, how they twinkle at me, mirrored with deep and delicious secrets. The way you murmur to me, the way we laugh, like we've laughed together forever; you make me into one of many, one of many of the only in your world. Your voice is musk and honey, your smile like pearls glinting beneath shadowy moonlit water; and I fall for it--oh, yes, how I fall for the gentleman act.

Part III – better strangers

We are strangers, you know, loving strangers in the night; our shadows are tall, but we are small in the darkness. We dance around each other like actors, players in a tragic comedy; our eyes are bright and dauntless in the spotlights, and our smiles sparkle with sweet irony. You profess, and I grin, I confess, and you laugh--they're cues, you see, automatic reactions, to smite the danger of wanting more (because you know what they say--all the world's a stage). You alight shivers, skittering across my skin, and I set free clichés in the pit of your belly; and yet I can't guess at what you write of before you sleep, and you know not of what I laugh at when I'm alone. I suppose that I've always known that a happy ending depends only on where you stop the story--but I do desire we'd be better strangers.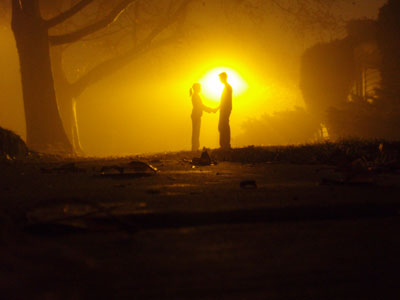 © Tanner H., Kaysville, UT