Eye of the Eagle
July 2, 2012
"Where is he?" I demanded, rushing into the room. My eyes darted around. I saw him in the back. We'd always sit in the back. He liked it that way. I made my way over to him, stumbling over chairs until I stodd right in front of him. I looked into his eyes. They were so brown and soft. I felt like pulling him to his feet and wrapping my arms around him. But I couldn't. Never again.

"I'm sorry." I almost whispered the words, tears began to run down my cheeks. He looked so confused, and hurt. I didn't want to hurt him. But i had to do what must be done. He reached his hand out to brush the tears from my face. My hand shot up and grabbed his wrist before he could touch me. He looked so hurt. I shook.

Suddenly he was holding me as I cried telling me it's okay and rubbing my back. I knew the others were staring at us but I didn't care.

I pushed away, looking into his eyes for what i thought would be the last time. Then I turned away quickly and hurried out of the room. I heard him call out to me.

"Wait."

But I was already running down the hallway and through the doors. I brushed my tears away and kept running. I ran away from all the buildings and to the field. Then I stood alone in the middle. There was a large rock on the ground. I shoved it aside and found the hole beneath it. Inside was a dirty bag. I pulled it out. my hands were still shaking. I untied the strongs and let it fall away to reveal the long two-handed sword. There was a mark on the handle. It was dirty and I rubbed my thumb on it. A tear feel from my cheek and shone on the cold metal in my hands. The mark showed an eye; the eye of the Eagle.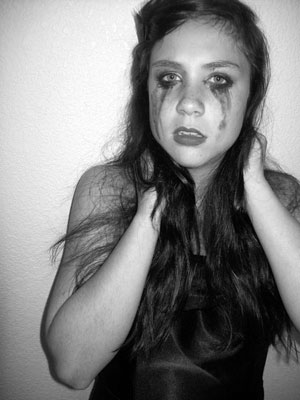 © Tiana D., Monument, CO