If my love was good enough.
June 29, 2012
" I just don't understand! What's wrong with me?" Gabriel screamed as he threw his booted foot into the wall. He sat on the top porchstep.

"Nothing man, you just gotta wait-" Jordan exclaimed, taking a slight breath to say more but was cut off.

"No i can't! You don't understand. She is the one. She IS the ONE. We went to the park and laughed and talked for a hours. It seemed like the longest time in my life. I write poetry for her, just for her. She says she feels special!" He stood and turned around in a circle, unsure of what to do with his anger and sadness mixed. " I throw my heart into everything i do. I've stayed up for 4 nights straight, cause she wanted to talk all night. She goes to bed in the morning, and I have work to do. I haven't slept in days! Just for her! She TOLD me that i'm the ONLY person she can talk to for hours long. I know this cause I talk to her EVERYday ALL DAY!" He yells out again into the night sky. He starts to walk down the dark 2-lane road. The only light source coming from the moon and the streetlamp half a block down. Jordan follows next to him. Listening to his story as he tucks his hands into his jacket pockets, feeling the soft plastic on the outside of the knife.

" I didn't trip and stubble and accidently fall in love. My knees were knocked out from under me by fate and i fell hard straight into the her arms." He stops and turns to Jordan.
" What i didn't see was the traintracks she was standing on. At the last moment she moves away and lets me get hit. Yet when i've been torn; Not by the train, but by wondering if she is ok and if she moved out of the way in time. I worry to the point where there are more scars from her than the train!!! After the train moves and she needs someone; she comes and picks me up! I fall for it again!" Gabriel breathing heavy as he turns and stares up at the moon. Sitting down right in the middle of the road.

"Dude i'm sure it's not that bad. Your just looking at it the wrong way." Jordan questions as he tries to figure something right to say.

"She doesn't talk to me for a week or two. Ignores my messages and never calls me. Next time i talk to her, she has a boyfriend. A day or two later they are broke up and she cries to me. She says i'm perfect for her. I'm her Ross and she is my Rachel. I'm her Forrest and she is my Jenny. For sakes i'm Picasso trying to find his angel in all the mazes and crazyness i paint!"

As jordan stands in silence, he sees something that he thought he would never see in 1000 years. As though it was taken right from the silver screen and put infront of his eyes; the moonlight shined as a single diamond crystal slowly traveled down his cheek. Jordan's eyes poked up as a shadow moved in into the streetlight.

"You got company man." Jordan said.
"This is akward." She whispered into the night as she bite her lip.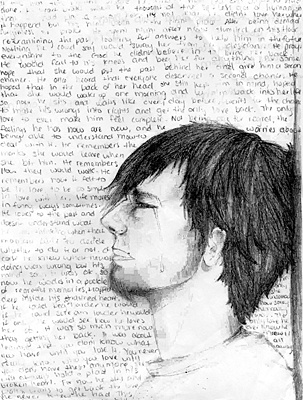 © Annie M., Columbiana, OH