Stay Strong
May 6, 2012
They stood in the rain, locked in a tight embrace. He moved his head so that his face was only mere inches from hers and whispered something softly in her ear before eliminating the space between them, his lips meeting hers in a beautiful, feather-soft, last kiss. Tears streamed down her cheeks as he pulled away to say his final goodbyes, their black coats soaked from the January downpour. The train had arrived in the station and passengers scrambled around the couple to get on and off the awaiting train. She wrapped her arms around his broad shoulders and buried her head in his neck again before finally letting go.

Underneath his coat, hidden from the view of passerby, was a military uniform, clean and pressed. His mission was clear: arrive at the base in Berlin and report for duty. He was to be positioned in the battlefield for five years. Five years, he thought. If I stay alive for five years, we can be together. Forever.

Reaching down to pick up his suitcase, he took hold of her hand and gave it a squeeze. She looked at him, her vision obscured by tears, and tried to remember this moment and save it to her memory permanently. He hugged her once more and then strode away in the direction of the train, turning and looking back only to firmly repeat what he had whispered moments before. She watched silently with her hands in her pockets as he gave his ticket to the conductor and boarded the 7:15 train.

He sat by a window and gazed out of the fogged glass to look upon her beautiful, tear-stained face one last time. He didn't know if he would ever see her again. Praying to God in his head, he asked for protection over both himself and his sweetheart. He requested protection and the insurance that they would always be together.


Five years later, he runs into an abandoned building, seeking shelter from the piercing bullets of the enemy, wondering what she is doing at this moment and if she is thinking of him. She sits at the kitchen table of her sister's house, observing the thawing vegetable garden outside, bathed in morning sunlight. Sweat drips from his brow as he runs again from the building to avoid getting blown to pieces by a recently planted grenade.

She looks down at a newspaper lying on the table and thinks of him, about what he last said before he left. She zones out of the present and instead sees their goodbye scene, reliving it, and thinking of their lives before the war. What would she be doing right now if he were here? Her nieces run into the room and she laughs as she watches them play. Would she be married with kids?



The day comes when he is to return. He looks out the window of the train, happier than he has ever felt before. She stands on the platform, dressed in light colors to reflect her joy. As the train pulls into the station, she searches the faces in the windows, attempting to identify one as him. She brightens when she sees him and he puts a hand against the window, his smile widening and his heart pounding.

The doors of the train open and a screen now announces the arrival of the 7:15 train. Rays of light streak the sky and birds take flight, searching for homes. He steps onto the platform clad in a neatly pressed uniform. She maneuvers through the crowd, following a direct path until she is standing with him face-to-face.

Wordlessly, he places his battered suitcase on the ground and wraps his strong arms around her, planting a sound kiss on her mouth. He dips her and kisses her again, a crowd forming around them, watching and cheering. She grows weak in his firm grip. "I love you. Stay strong," he says softly. She nods at the mention of the last words she had heard him say and wraps her arms around his neck to kiss him again and just enjoy being in the safety of his arms.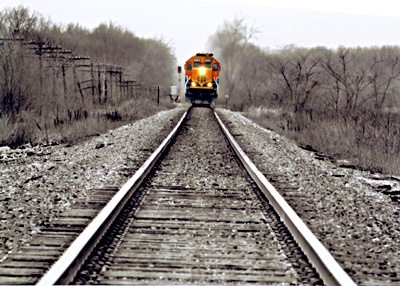 © Matt D., St Peters, MO