A Dreadful Romantic Day
February 20, 2012
BEEP BEEP BEEP BEEP! The alarm was going off! Ugh! Another day, another "fantastic" day at work. As I sat up, I heard even more beeping coming from the kitchen. Frantic, I slipped on my slippers and ran, or more or less slid to the coffee maker. It wasn't too far a run. At 28, I had only graduated from law school two years ago and had earned my law degree. Well, it has gotten me super far! I guess I should have known that after graduating from law school, a job wouldn't just stare me in the face. At this current moment, I had a wonderful job working as a legal secretary at a law firm. Let me tell you, my boss is "lovely." Instead of answering phone calls and doing a bit of what I had hoped would be legal work of some sort, I spend most of my time running errands for my wonderful employer, Ms. Susan Johnson, of Johnson and Johnson Law. I know, I shouldn't put myself through this but unfortunately, Ms. Johnson happens to be a partner for the best law firm in New York, so if I want to find a new job, I am going to have to stick with this and earn some respect from Ms. Johnson so that I can get a good recommendation when I leave. The fact of the matter is, I don't have a whole lot of money and am currently living in a one-bedroom apartment, which might as well be a closet. That's New York City for you!

There is only one thing that has kept me going through these recent years, my boyfriend, John. We met in law school and have been together ever since then. He's the lucky one; he actually has a job as a lawyer, and is working as hard as he possibly can. We have been dating for 6 years, and I suppose if I were honest about it, I have wanted him to propose for a long time, but of course I would never tell him that. If I did that, it could ruin everything, and he might never propose! Today is our anniversary; it should be nice. John always has something planned, in between both of our busy schedules. I wonder if he has scheduled anything for tonight. As if in answer to my question, from a mere four feet away, I could hear my cellphone going off in the bedroom. I knew it was John from the ringtone. "Our Song" was playing. Literally, "Our Song," by Taylor Swift was emanating throughout my tiny apartment and to the kitchen. Corny, yes, immature, yes, romantic, yes! That was what I had always loved about John. He was a corny romantic guy, but I loved him anyway. Just the fact that he made an effort is what has mattered to me. I rushed to answer my phone. "Good morning sunshine," John said through the phone, I could almost hear him smiling. "Yeah, I am a sunshine alright at 7:00 in the morning," I laughed, "Happy Anniversary anyway." "So you got any plans tonight?" John asked coolly. "Not unless my boyfriend calls," I replied dryly. "Right, so I was thinking dinner at Top of the Tower, then a stroll through Central Park and fireworks at the bridge where we met." "I'll try to clear my schedule up but no promises," I said. "See you at 8; love you," John laughed. "Love you too, bye," I said as I hung up the phone.

As I rushed into work, my phone rang. The Darth Vader theme song was blasting out of it, which could only mean one thing, Ms. Johnson was calling. "Yes Ms. Johnson," I breathed. "Yes, change of plans, throw those cups of coffee you got me away. I want you to run down to Morgan and Morgan and get notes from them regarding the Cain case. Hurry and don't be late." "Yes Ms. John--" she was already gone. I whirled back around, threw her double shot caramel chocolate chip espressos in the trash and ran out the door. I pushed my way through the crowd and wound up at Morgan and Morgan, 1914 Bore Street. As I stepped into the elevator, a school group piled in front of me. Some wise cracking first grader decided to press all of the buttons, and my destination was the 30th floor. Deciding I didn't have time, I got off at the 20th floor and ran up 10 flights of stairs to Morgan and Morgan's office. When I went in, the secretary told me that all of the Morgan's had gone on their lunch break. Have you ever seen the movie "Devil Wears Prada?" My boss is the new and improved Miranda. Knowing my head would be on a platter if I didn't get the papers now, I told the secretary that the little monsters in the school group had started beating on the Morgan and Morgan signs down stairs. As I watched her enter the elevator, I seized my chance. Rushing into John Morgan's office, I saw papers labeled Cain notes for Johnson and Johnson. I took them off of the desk, wrote a nice little thank you note and ran back down the stairs. The rest of my day at the office was dreadful, not any worse than any other day, but still a terrible day. It was filled with "Ms. Ellyn Smith, coffee." "No I wanted a Frappuccino, not an espresso." "What is this? I wanted all organic not, that processed stuff." It was filled with no "pleases", and not a single "thank-you," just do what I say or get out.

When 6 o'clock rolled around I was about ready to pass out. However, I put on my happy face as I rode the subway home to change clothes for my dinner date with John. As I searched through my closet, I found the perfect dress, John's favorite, a sleek, blue cocktail length gown, with my mom's hand me down, glittery, silver Jimmy Choos. I put on one of my few pieces of jewelry, a necklace of ivory pearls. Ding Dong! John was here. As I opened the door, with his boyish good looks, he was a sight to behold. Neither of us said anything, we never do, we know how we feel about each other. He took my hand, we exited my apartment and he opened the door to his 640 BMW Coupe, a recent luxury purchase, which was a result of his new attorney salary. We arrived at Top of the Tower, ate our dinner, chatted about our day and shared a bottle of Champagne. We left and pulled into a parking lot a few blocks from Central Park. John took me around a bend to reveal a horse-drawn carriage. "John," I exclaimed, "it's wonderful!" He just smiled. We rode in silence while gazing at the stars. When suddenly the carriage stopped at the bridge where we had met. As I stepped out of the carriage, John was nowhere to be seen. The carriage driver winked at me and pulled the carriage away revealing John down on one knee. "John, what is it?" I asked. As I stepped closer, I realized that John was holding out a little box with a ring inside it. "El, no one makes me feel the way that you do. I think I fell in love with you when I first saw you in Ms. Alexander's tort law class. We laughed and cried together. You've seen me at my best and seen me through my worst. I cannot imagine spending the rest of my life with anyone but you. I love you El. Will you please do me the honor of becoming my wife?" "Of course!" I exclaimed. With that, my terrible day turned into the beginning of the rest of my wonderful life.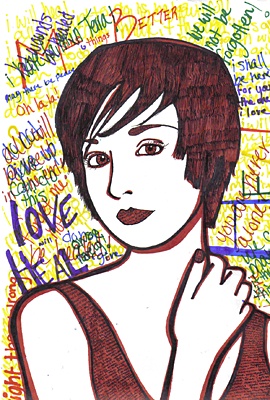 © Sara D., Aiken, SC