Wet Imperfection
December 21, 2011
Has he ever realized how perfect his eyes are? They are the perfect size almost like his face was molded meticulously and symmetrically just to compliment them. They're perfectly shaped, arched like rounded diamonds. They are deep enough to make any girl who dares to stare into them for too long, get lost in him for miles. They are the perfect color, golden and hypnotic like a medallion, outlined with a thin bronze line. They are dark enough for him to hide every secret that lurks behind them, but still light enough to act as a mirror revealing to any girl who spends enough time in them how lucky she is to be there, to be reflecting in perfection.

I ache discovering my sudden desire to stay in them forever as I admire my image in them one last time. I glare at my own lovesick expression until my reflection becomes blurred. I see the small wet imperfection slip out of its shelter and slide down his cheek. I wipe it away with my shaky fingers and lean my forehead against his. His eyes beg me to stay though his lips say nothing.

I almost beg for him to hold me one last time, but I know that if he does, neither of us will ever gain the strength to let go, so instead I lie there in the familiar comfort of his eyes until his lids slip shut breaking his spell on me.

I kiss his warm cheek before walking away from him and his perfections to begin my travels on the path opposite of the one his life has chosen for him. I take one last look at the sleeping boy, who once could give me all that I needed, then I turn around leaving him nothing but my own wet imperfections stained on his pillow.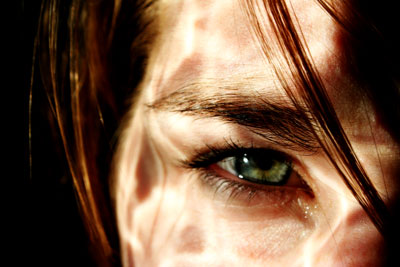 © Monica L., St. George, UT