Therapy
August 30, 2011
Inhale exhale
Right step left step
Breathe norelis
Turn the knob
Takes a seat on the white uncomfortable chair
Breathe 
Eyes wander through this white room
No pictures
No family
No cute quotes
Nothing
"hi !" a lady says with such enthusiasm It gives mi anxiety 
Clutches my hand into a fist
Breathe norelis , you can do this
"so i heard you wanted to talk to me, sweety" she smiles
I look At her face 
Drifts down to her clothing
Not so fashionable
Which makes mi think she doesn't care about appearance
I look back up to her face
Mid 40s, dark circles under her eyes, no ring on her finger buh she has a tattoo that says mike and Clarissa forever, divorced
She grabs her tea cup, waiting for mi to speak
Not know that I'm saying so much already
She grabs her cup while her hands tremble
I feel the anxiety building up again, i look down to the floor
"hunny , you want to start now ?"
I look up 
Breathe norelis
TImidly, almost like i lost my voice and my alter ego speaks 
"No , I'm fine"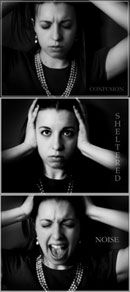 © Michelle B., Blairsville, GA