The Goodbye Song
July 25, 2011
G. Em. C. D. I watched his fingers as they routinely move to these different chord positions. His other hand moves up and down rhythmically, strumming the strings lightly with a maroon pick. I wait for his voice to join in and follow the wave of the song. I've lost count of how many times I've heard him play it, but there is something about this time that strikes a new emotion in me. It may be the fact that it is taking every last bit of energy he has left in him to play it. Maybe it is because his voice, though now raspy and tired, was the most soothing sound that has ever filled my ears. Maybe it was because this time he is strumming it instead of plucking the strings as he usually did, because his fingers are now too weak to move in the melodious way they used to. Or maybe it is merely because I may never have the chance to hear it again.

"So there's this girl that I met, she gives my story a set." his voice began to sing, "it was a hard and harsh time, but she removed the pain from both my heart and my mind."

They give you many warnings once you have volunteered for the emotional role of being a candy striper, but there is one that they stress more than the others. Don't create special bonds with any of the patients. I began defying these warnings about two weeks after I began volunteering on the pediatrics floor at the local hospital, a job I took strictly for the sake of widening my college resume.

"She's got the face of an angel, and a smile the glows. She's got baby blue eyes and the sweetest voice I've ever heard." He continued offering me a weak attempt at a smile.

I was walking down the hall on the way to my car to leave after a stressful day, when I heard the sound of a guitar. I followed the sound into the small play area for the children, where I saw a skinny guy with curly dark hair strumming to a group of five kids looking between the ages of six and ten. He played a joyful childish song as their tired faces smiled at him, some singing along. He had just ended the song when his eyes met mine. He smiled confidently as he strummed a G.

"It's not a free show you know," he winked as he began to play a new song. I felt the red rushing to my cheeks, realizing that I had been caught. I tossed two wrinkled dollars into his case, returned the smile I received from him, and began to walk back to the hall.

"If I could promise forever, she'd forever be mine, but there's a chance that I'm living on limited time," That lyric always stung but now it nearly brought me to tears because it had never seemed as realistic to me as it did at this moment.

The next day, his room happened to be on my candy striper list. I was welcomed in by the soft strum of chords. I peeked around the corner and saw a weakened replica of the boy who had caught my attention just the day before. This time rather than looking joyful and confident, he looked feeble and ill. When I walked out from behind the corner his face lit up a bit and he laid his guitar down.

"A Gibson?" I asked looking at the guitar.


"Pre-war, it's a classic," he replied following my gaze to the instrument, "do you play?"

"Yeah I actually just bought a Taylor." I replied.

"Sweet, Taylors are nice." He smiled, "So do you just wander into random rooms and talk about guitars?"

"No, I'm actually supposed to do the nasty things that nurses are too good to do, and then I'm supposed to grant all of these needy patients' wishes." I joked.

"Well lucky for you, I'm not nasty," He laughed.

"Well I'm glad," I laughed back, "is there anything you need, like something to eat or drink?"

"Yeah just a new heart," he laughed at his own morbid joke. I just looked at him, not really sure how to react to the comment. "I'm just kidding, I'm fine." He added

"Okay," I said as I began to back up, "well then I guess I should get going. I'll talk to you later."

"Yeah, see you later," he replied.

"Hey," he called after me as I headed for the door, "When do you get off?"

"In about two hours."

"Any chance you'd want to hang out for a while?"

"Sure," I smiled at him then left the room.

"So I'll hold you for now, and as long as I can, and if I must leave you'll still hear me whisper words in the wind. I find strength in your smile, and hope in your eyes, so I'll sing you this song, until our final goodbye." I stood up and wiped my face as he finished the first chorus of the last song. I turned around hoping he didn't see the weakness in the water spewing from my eyes. He had yet to see me cry all summer and I would hate for that to be his last sight of me before surgery, or worst, before he left me for another world.

The surgery was a risk. It had such a small chance of success, and such a great chance of terrible outcomes, the worst, of course, being death, but he likes chances, and he's ambitious with a life that he is already too close to losing any ways.

That night when I returned to his room something sparked. We talked way past visiting hours until the nurses finally threatened to give him a shot to put him to sleep. He told me that he was born with a crummy heart, which in the past year has just revealed its flaws to him. He told me he has been waiting for a transplant for months but he is on a long waiting list.

I had noticed that everyone else had a family member by their bedside constantly, but he hadn't had any visitors all day. When I asked him about it he just kind of shrugged it off. "My parents are divorced, and they have lives that consist of new lovers and other kids. My dad has a life all the way in Indianapolis. He can't keep a wife, but he's been involved in the same business since before I was born. I'm lucky if I see him every other week. My mom comes in twice a week from Kentucky, but she is never happy when she is here. You can tell it hurts her to see me like this. I have one little brother and a half-sister. My brother, Jack, is twelve and comes in with my mom every week. My half-sister, Kelly, is ten and could care less what happens to me. She only comes with my dad when he promises to take her shopping in the city afterwards. As for my step-parents I've never met my newest step-mom. She claims that she doesn't want to get too close to a slim chance like me, and I've seen my step-dad twice since I got admitted to the hospital six months ago. "

This story broke my heart, even when I had a mild fever my parents were surrounding my bedside trying to find any way to heal me. I couldn't imagine being so sick that the world just gives up, or being so sick that the world is afraid to get too close to you. So sick that even your parents lose hope.

"She dared to love me, when the world was afraid. She dared to hold my heart though it was now weak and frayed. And she's one crazy girl, she's chancing and ambitious. She joined me in my fate controlled by my rare condition." He finished the second verse of the very last song.

I spent most of my summer in that room. I met his brother and we played video games with him for the whole day. I also met his mom and his dad. I didn't like them. He was right they did have other lives and the whole time they were with him, they were looking at the clock waiting for the time that they could clear heartedly return to those lives. I made it my goal that summer to spend most of my time filling the lonely void that he would never admit was haunting him. I ended up telling him things that I would have never shared with anyone. I ended up playing songs for him that I had written strictly for my ears only. I ended up not wanting to ever be anywhere but in that musty, plain, depressing, room 604, sitting cross-legged at the end of the old, white hospital bed.

"If I could promise forever, she'd forever be mine, but there's a chance that I'm living on limited time." He went on.

Sometime during that summer I fell in love with him. We rarely spoke the words "I love you" to each other, but it was almost like we never needed to. We both just knew that in that short time that we had known each other, we fell into something deeper than others may ever experience in a whole life time. I could never explain to you how it feels, or why I feel it for this boy who others are afraid to chance it with. I could never tell you exactly why I love him. It might have been his personality, or it might have been the way he just gets me. It might have been the way I feel like I can tell him anything. It might have been the way we could play guitar and sing for hours or the way that our voices just harmonized perfectly. I don't really know, but what I do know for sure is that I greatly defied all of the warnings and created a bond with a patient. I fell in love with a patient.

"So I'll hold you for now, and as long as I can, and if I must leave you'll still hear me whisper words in the wind. I find strength in your smile, and hope in your eyes, so I'll sing you this song, until our final goodbye." He repeated.

It was obvious that he was beginning to live on his last whim. He was weak, and had trouble breathing. His color was pale, his eyes were baggy, and he slept about seventeen hours a day. They doctors never found him a new heart, but there was one more procedure they could try that would hopefully save the one failing in his chest. It was either wait for a new one that a may never come, or gamble with his old one. His ambitious mind chose the second option. So now here I am, next to the boy I love, listening to him play the song he wrote for me, just three weeks prior to this day.

"The time spent with you has made living now worth it. I've got a reason to fight in a battle I'd once quit. So I'm trying, my love, I'm trying for you, but even if fate steals my life, one thing is true. I met love before death, and that's all I've ever desired. So I'll hold my love in my arms, even as I grow tired."

I hear him play the last bridge of the last song. "If I could promise forever, she'd forever be mine, but there's a chance that I'm living on limited time."

I listen to the soft beep of the machine monitoring his heart. It's monitoring the heart that is failing. The same heart that loves me, is failing the boy that I love. The heart that is breaking is breaking mine at the same time. I treasure the sound of the beeping, the sound symbolizing that his heart is still working at this moment. The sound symbolizes that at this very moment my love is still with me.

"So I'll hold you for now, and as long as I can, and if I must leave you'll still hear me whisper words in the wind. I find strength in your smile, and hope in your eyes, so I'll sing you this song, until our final goodbye."

I see him breathing hard after he strums the last note and I grab his guitar from him and lean it against the bed. I run my hands through the soft curls on his head and kiss him tenderly on the cheek. He pulls me in his arms and holds me there. It is at this time that the nurses enter the room to take my love away from me.

Before he lets me go he says to me in a rhythmic whisper, "So I will sing you this song till our final goodbye." I sob into his chest as he runs his fingers down my back.

I walk with him to the doors along with his mother and father, who still somehow seem to wish they were anywhere but here. The whole way to the door where our departure awaited, he hummed our song. When we reached the door he looked me in the eye. He pulled the maroon guitar pick he used to play our last song, out from under him and kissed it. "I love you," He says handing me the pick. I too kiss it before sticking it in my pocket.

"I love you too." I reply.

When the doctor appears from behind the same door about five hours later, he is covered in blood. The only words I hear him speak before my world goes numb are "I'm sorry."

I walked outside and hope for a wind. When the world finally releases a breeze I imagine his voice singing me my song. "And if I must leave you'll still hear me whisper words in the wind." I pull out my pick and hold it close to my heart, close to where my love now and will forever dwell.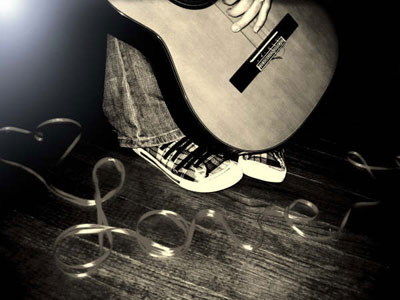 © Leah C., Grand Island, NE