More Than an Echo
June 17, 2011
September 7: Noon


"Hi," he says, walking over with a smile on his face.


"Hi," she responds.


"My name's Connor. What's yours?" He asks. The girl looks at him strangely, biting her lower lip. She's cute, he thinks, though maybe a little shy. "What's wrong? Cat got your tongue?"


"Cat got your tongue?"


He starts and cocks his head to one side. "What?"


"What?" She replies, her face twisting into a grimace.


"Uh, I was just asking what you said. Before, you know." He's starting to get second thoughts about this girl. Cute or not, she's weird.


She sees the expression on his face. She's seen it plenty of times before. "You know," she says.


The boy shakes his head. "No, I don't know. That's why I asked, see?"


"See?"


"I… I have to go."


She watches him go, shooting a sideways glance back at the strange girl sitting at the lunch table by herself. They're all the same. He lifts his hand in a little half- wave goodbye. She doesn't even bother to wave back. What's the point? Sooner or later, they'll stop coming. It's only because of the new school, she decides. Eventually they'll give up, and she can go back to living her life in peace.


And solitude.



It gets lonely, being her. But what choice does she have? Better to be lonely, she thinks, than to have to put up with awkward conversations like that all the time. Isn't It?



September 8: Afternoon


"Yo."


Not again, she thinks. "Yo," she says, attempting a casual nod.


The boy raises an eyebrow at her. "Me and some of the other kids were gonna go hang out at the park. Suzie over there told me to ask if you wanted to come too."


She glances over at the small group of teenagers hanging around near the doors. One of the girls waved. "Suzie over there…"


The boy looked at her strangely, and then glanced back at the group. "Yeah, that's Suzie. You know her, right?"


"Know her… right?"


The boy throws up his hands. "Look, we're just wondering if you want to come hang out. Do you?"


She nods her head vigorously.


"Okay then," he says, and starts walking back to the others. Halfway there, he looks back. "You coming?"


She nods her head again, and chases after him. Is this her chance to finally be normal, for just a little while?


"Hey," one of the other kids greets her.


"Hey," she smiles at him. This isn't so bad, she thinks, and keeps smiling, even after the boy turns away.



September 8: Evening


She should have never gone with them. All they do is make fun of her. She thought maybe she could fit in; maybe be one of the group. Maybe she could finally be part of something.


She was wrong.


They took her to a restaurant, one with nice smells and low lighting and lots of people. At first she liked it; it was something new and exciting. Now she wants only to leave.


But she's stuck, wedged in a booth between Suzie and some other boy she doesn't know, and doesn't really want to know.


"So girl," Suzie sneers. They tried to get her to say her name earlier, but she couldn't. She can never seem to say the right thing. So they call her 'girl.' "Where are you from, girl?"


"Besides Loserville," someone else cuts in, sending the whole group into a fit of laughter.



That wasn't funny, she thinks. Why do they all laugh at me? They make me feel funny. What is this feeling; this emptiness? I don't like it. I need to get out.


I need to get out.



Next to her, the boy begins to get up. Now is my chance, she thinks. Slowly, ever so slowly, the boy slides out of the booth. She doesn't know where he's going, doesn't care. As soon as he's out, so is she, shooting like a rocket, out of that place, that place where all everybody seems to want is to hurt her. She feels their eyes boring holes through her back as she darts away, hears their laughter getting louder.



And then the tears start to fall.



She is out of the door, into the crisp night air, but she doesn't stop, and neither do the streams of tears flowing down her cheeks. Running down the sidewalk, the long, empty sidewalk, not paying attention to the storefronts she passes or the beat of her shoes on the pavement. She runs down the sidewalk; and the tears run down her cheeks, until both come to a stop.


She finds herself standing on a pier, overlooking the dark ocean. The mesmerizing, relentless ocean. And suddenly she wonders what it's like to drown. And if it could really be so bad? No worse than what she's been through.



Could it really be so bad?


She takes one step, her mind suddenly blank. Just one little step…



"Hey!"



She winces, and finds herself off balance. Leaning towards the water. Falling towards the water. Crying out, and falling, and-



"Got 'cha," he says. A warm hand wraps around her wrist, and pulls her back onto the pier.


She looks down, refusing to look into her savior's eyes. He frowns slightly and tilts his head, trying to meet her gaze. "Hey," he says. "Are you okay?"


She keeps her head down. "Okay," she says quietly.


His frown deepens. "Of course you're not okay. I mean, you could've drowned there, huh? Here, follow me."


He begins walking towards the end of the pier, gently guiding her behind him. As he steps onto the sand, she suddenly stops. He turns back to her curiously. "What is it?" He asks.


She furrows her eyebrows, but says nothing.


"What's wrong? Are you hurt?"


Water begins to well up in the corners of her eyes. She places a hand over her heart. "Hurt," she whispers.


His eyes widen in understanding. She waits for him to walk away, but instead he steps closer, his tone softening. "What's wrong with your voice?"


She looks up at him, the tears beginning to fall. "What's wrong with your voice?" She says.


"Can't you speak for yourself?" He asks.


She shakes her head.


He frowns, then suddenly lights up. "Follow me," he says, guiding her down the shore. He picks up a stick and begins to make markings in the sand. She follows him, curious.


As he steps back, she gasps. Scrawled into the sand is a question.


What's your name?


She looks over at him, and sees him offering her the stick. Her eyes shimmer with something beyond thanks, and she proceeds to scribble a single word into the sand.


Echo



October 3: Daybreak



"What 'cha doing, Echo?" Mark asks, walking over to where she stands on the beach. She starts at the sound of his voice, and moves to cover her writing. Mark tilts his head to the side curiously.


"Aren't you gunna let me see?" He asks, smiling. Echo bites her lip, and then slowly steps to the side. Mark reads the word scrawled into the sand. "Sorry?" He looks over at Echo. "What could you be sorry for?"



Echo shrugs uncertainly, cautiously stepping up to Mark. Then, almost hesitantly, she reaches up on her tip- toes and quickly presses her lips against his, recoiling almost instantly and looking down shyly. Suddenly she hears Mark's quiet laughter, and looks up at him.



"That's what you're sorry about?" He asks.



"Sorry," she murmurs, glancing downward.



Mark catches her chin and gently tilts it upwards. "I'm not," he whispers, and kisses her.


Against the smooth feel of his lips, Echo smiles.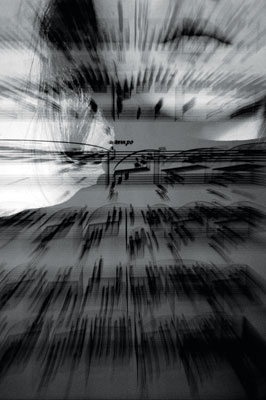 © Sarah M., Blairsville, PA