A Promise He Couldn't Keep
May 16, 2011
"Warner!" I cried out as he began to walk away from me. I shuddered from the cold winter air as it made its way down my back.

He turned back towards me, his bag around his shoulder. His handsome face smiling back at me; trying to calm my nerves. I was only twenty and he was three years older than me. He came back, and gazed down at me. His were eyes soft, and gentle. Oh, his soft blue eyes, the color of faded blue-jeans.

A tear rolled down my cheek, and he ever so tenderly wiped it away with his thumb whispering to me, "No need for tears, Love." He carefully lifted my chin with his finger, and leaned down to kiss me. At first, I thought he would kiss me then leave, but instead he stayed there, and let our lips say our goodbyes. My salty tears made their way onto our lips, and I could taste them on my tongue. Warner broke away first, hovering only inches from my face.

I looked up at him, longingly, and he looked down at me with the same expression. I wanted to say something, anything, but nothing came to mind. I wanted him to stay, I wanted to take him into hiding so they could never find him, and take him from me.

"Once this ludicrous war is over, I promise you I shall return in one piece, and we will be together forever." He said to me as he brushed a piece of hair away from my face, and tucked it behind my ear.

"Promise?" I asked.

"Promise." He assured me.

He tilted his head down and kissed me once more before whispering, "I love you."

Three words that had kept me alive through the months of agony of the war. Three words that gave me hope through the years. There was never anyone else; it was only him, Warner. He was my soulmate, and heart, and his promise helped me survive.

"I love you, too." I replied. He smiled, and I couldn't resist kissing him one last time.

I watched him leave, and when he was about to pile into the jeep with the others that would transport them somewhere beyond my knowledge, he waved at me. He left me, drafted into a war.



***

Nowadays I often wonder to myself if we could have hidden from the draft, and if I could have taken him away with me. The day I received a purple heart was the same day my world shattered into a million pieces. We had been married for one month before he was drafted. I cried for days after my discovery of his death. Never had he broke a promise to me, but this promise was one he could not keep.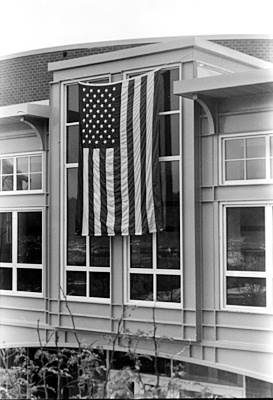 © Chuck K., Marblehead, NY