Hopes Can Be Better Than Knowledge
February 27, 2011
I have to know. I can't stand the suspense anymore. He had asked me that Friday night if liked him. I had said yes. He said he was happy I finally told him, but then he had to go. I never got to ask him if he felt the same. Sitting in class right now, I try to build the courage to ask him.
I grab a random piece of paper from my folder, and rip an edge off. I knew I wouldn't have been able to ask him face to face. A note was the best way to go. Now I need to figure out how to word it. "I answered your question, now you have to answer mine. Do you like me?"
I fold the small piece of paper. I keep folding. I'm losing my courage. Could I still do it? What if he says no? I throw the piece of paper across the table before I change my mind. He grabs the paper quickly before the teacher turned around.
I watched as he read it, and wrote an answer. It was a long reply. Was it a no, and he was saying how sorry he was? I lived a year in a minute. I was scared when he finally threw the note back at me. My hands were shaky, and my breathing was rapid as I unfolded the paper. I tried to steady my hands so I could read it.
"Yes. But I want to be single right now, so don't get your hopes up. If I were you, I would start looking somewhere else. I'm sorry." While I try to think of a response, the bell rings. I shove the note into my pocket, and get up to leave just as tears begin to roll down my face.
I'm glad he likes me. But I would rather keep hoping then just give up.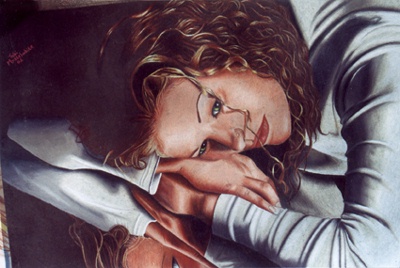 © Tabitha M., Kannapolis, NC