Love and Soccer
May 6, 2010
Great. Soccer practice again today. Might as well fake my own death (or try to).
I can't find the reason why my dad signed me up. Or why mom thinks it's a great way to make peace with Marissa Sullivan, aka Robot Barbie. My name is Kyla Danielle Davis. Lame name I know. I go to Mountain View High School. I'm a major nerd in school, have an ok social life, and as far as looks go I'm no goddess. But Marissa is a blonde of course, has the best clothes, a nice car, is the most popular girl in school, and has the arm of the hottest guy in the world. His name is Tyler Matthews. He has spiky black hair, beautiful brown eyes, and as far as his body goes, he is like an original Greek god. Only Lord knows why I can't talk to this guy.
Life sucks.
"Alright everyone. Let's start with the simple drills first and see where we go from there. No Timmy. That's not how you kick the ball! Great, you just hit Caleb in the face." "You know I hate you for signing me up for this." That would be my best friend Lourdes. She is like the greatest person in the world. "Sorry but there is no way in the world I'm coaching 3rd graders by myself." She looked at me like I was crazy. Lourdes is much prettier than me. She has light brown hair, striking blue eyes, and she's tall. "Well, just remember I'm doing this for you ok? Anyway speaking of the devil, and she shall appear, look at Robot Barbie and her Wu Tang Clan." Lourdes turned me around to look at the beautiful arrangement of popular kids at our school. Walking in the front was my worst nightmare, Marissa and Tyler laughing and holding hands.
I felt like such an idiot.
"Well Marissa, your late, again.", I interjected at her. She made me so sick. Marissa looked at me like I was crazy so I helped her out a bit. "You're supposed to be helping the cheerleaders out remember? That was the deal." Once again she looked at me then rolled her bright, green eyes. "Whatever. Just make sure your poor excuse for a soccer team doesn't mess us up again. Ok?" So, with a sway of her strawberry blonde hair, she strutted away from me. "What is her problem? Gosh if she doesn't get over it I'll fix it for her." Lourdes just looked at me, then her and sighed heavily. "Girl, I believe you both have problems."



"Ok guys' great practice today. Now I all want you to go and have some free time to yourselves. I've got some work to do." I was so glad the day was over. Marissa was making life even harder for me. Plus all the paper work I have to do is pilled so high; I don't even think we'll be ready for the playoffs this year.
Lord have mercy.
Just when I turn my back, I get struck in the head with a soccer ball, giving me the worst feeling imaginable, and fall right into water jugs and cupcakes reserved for the team. Sometimes I wish Danny would learn how to kick a ball correctly, but since he can't, I'll have to live with it. What I won't live with is Marissa and her minions laughing at me. I was on the verge of crying until a pair of strong hands grabbed me and pulled me up. I could hear a sweet and intelligent voice talking to me. "Hey, are you alright? Can you speak?" I open my eyes to see Tyler standing over me smiling his beautiful smile and moving my hair out of my face. "Yeah your ok, I mean the waters ok, I mean yes I'm ok. Thanks." Why do I act like such an idiot around him? He laughed a little and pulled me up from the ground. "We'll, your welcome. And I'm glad you're ok. You took quite a spill there." Did Tyler Matthews just say he was glad I was ok? "Anyway, I still want to thank you. Um, my name is Kyla Davis. I put out my hand for him to shake. "Well, my name is Tyler Matthews." He held out his. We shook hands for what seemed like an eternity to me and let go. I only knew why. Marissa looked toward us with menacing "I'll kill you" eyes. "Well bye Kyla,. I got to go teach the 2nd graders how to serve the balls." With that, Tyler ran to join the younger crowd leaving me with a bright smile on my face.
And a very jealous Marissa in his place.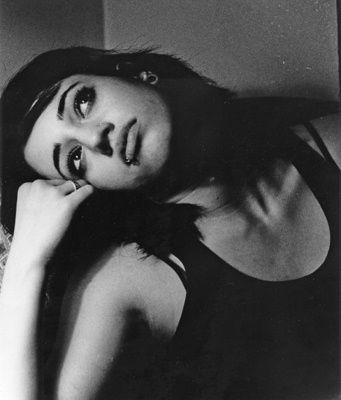 © Jessica B., Bethesda, MD