Break Up With Her... For Me.
March 16, 2010
Ellie was handing some text books out as I passed her, on purpose, I nudged her shoulder, causing the huge pile of books to fall out of her arms and onto the floor with a loud thump. The whole class started to laugh.
"Ellie! You're so clumsy. Don't just stand there. Pick them up and finish handing them out!" The teacher said. Ellie bent down to pick them up and I walked to the back of the room to sit down. Ross put his hand out and I gave him a hi-5 as I passed.

Remember the love bite that Ross gave me yesterday? Well I wore a scarf today to cover it up, but the teacher noticed it and I was told to take it off.
"Georgia O'Donnell. Is part of the school uniform a silver scarf?" She asked, the whole class looks round to see my response.
"No Miss."
"Well get it off then! If it's not school uniform then don't wear it!" I took it off. Ellie was sat on the desk next to me and had perfect view of it.

There's was knock on the door from someone and the teacher has to go and talk to them.
"What is that?" Ellie gawped thinking she was getting the chance to embarrass me when, in fact, it was the other way around. The class gathered around me, I got on with my work and they stared at it.
"What?" I said, tossing my hair back.
"What is it?" One of Ellie's mates asked.
"A love bite, duh." I replied.

"A love bite. Yeah right. Who would want to give you a love bite?" Ellie rolled her eyes, not expecting the response I give her.
"Your boyfriend." I answered, scribbling down the answer to the questions in the text book. Ellie instantly looks up to Ross. "That's right, Mr Ross Walker sat in the corner looking all innocent. Turns out he's not the person you think he is." I replied smugly.

"Ross." She said, sounding as if she's about to cry.
"Ellie." He said mocking her voice.

"Georgia O'Donnell. Mr Harrod would like a word with you in his office. Now." Our teacher says entering the classroom. "What are you lot gawping at? Get back to your seats; get on with your work."
"Yes Miss." They all replied, sounding like brainwashed robots. I looked over to Ellie, who was currently glaring at Ross. He looked over to me, shaking his head, but he has a smirk on his face. I make my way down to the head teacher's office. I sat waiting and saw Kim coming out.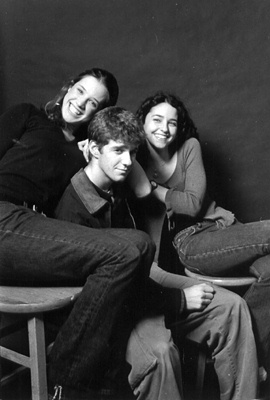 © Samantha F., Marblehead, MA