Among the Ashes
February 25, 2010
The wind whipped through her dark hair, blowing it into her face, brushing away the tears that ran down her cheeks. Columns of smoke rose into the night, making the normally ebony sky appear grey and hazy. She stooped among the ashes, sorting through what was left of her life.


Amongst the soot lay smoldering pieces of furniture and mementos. The charred, misshapen bits of keepsakes were strewn on the ground, and she hurled them away from her in a mixture of sadness and anger. Ashes bit at her eyes, causing them to sting even more, bringing on a fresh bout of tears. Memories overwhelmed as she gazed in sullen silence at the ruins around her. This place, this wreckage, was an unwanted image that would haunt her for the rest of her days.



And she would have no one to share the pain with, for she was the only one here now. Someone had been there with her, through the heat and the agony, but the fire had consumed him as it had consumed her home. No one came to help her, because there was no one left. She was fated to walk alone, with only her memories of the past.



She began to trod among the rubble, her feet snapping the burned, brittle scraps of metal. Suddenly, she stopped. Someone stood not ten feet in front of her, bending over the ashes just as she had been. The tears of sadness that had run down her cheeks now became tears of joy. He had made it out after all! A smile broke out on her face, bringing a much needed contrast to the world of black around her.


"John?" Her voice rang out like a bell in the black silence. The figure began to walk toward her, the haze of grey still shadowing his body and face. "John! You survived!" The shroud walked toward her and reached out its hand. Emily slowly reached out hers, waiting for that familiar, tingling spark she always felt when she touched his fingertips. But with another gust of wind the figure disappeared. No one was there. No one had never been there. It was only an illusion, made out of smoke and ashes.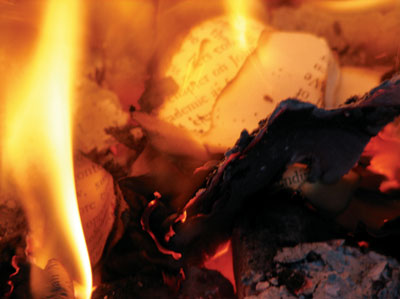 © Elizabeth H., Jordan, NY