A sense of happily-ever-after
December 12, 2009
When he moves his arm further down my back I can see the flaw in the movement.
He's jittery, nervous, like he's never held a girl in his arms.
"I love you." He says through a sigh and closed eyes, before they slowly gaze over to me. His eyes are a soft honey brown. I end up looking away from embarassment, my heart fluttering away through my chest.
I shift up to him kissing him gently on the corner of his mouth. He turns his head. Both of our lips coming together.
I pull away to mumble back an 'I love you', before nuzzling into his neck.
He lifts up the covers onto my exposed shoulder. I curl up closer to his warm body.
This may possibly be one of the most happiest moments in my life.
Strange how the select best memories come from him.
My favorite memory so far had been of his last football game several months back. It was night, freezing cold for October. Our school was facing one of the meanest teams in our league. Both players, fans and opposing cheerleaders had horrible attitudes.
By halftime our school was down two touchdowns. It was the cheerleader's jobs to pump up the players for the next half.
The cheer routine had gone swimmingly, and I looked to the football team for approval, only to my dismay to see my beloved benched for starting a fight with the other team.
During the last quarter of the game he was put back on defense. I cheered especially loud for him. It was very cliche that the football player was dating me, the cheerleader. Yet, the only reason he had even joined the team was to waste more minutes with eachother, so he could see me at games and practice.
He passed to #24, and he managed to breakaway to the end zone.
The crowd cheered wildly as a touchdown was made.
We won. Our school would go to semi finals.
Within the chaos of celebration, I saw the familiar green jersey'd boy running to me. I broke away from my spot on the sidelines, and when we met, I wrapped my arms firmly around his neck.
I could feel the sweat trickling down his tired face, and the faint 'awing' of my cheer team in the background. His arms snaked around me. I closed my eyes.
That moment felt perfect.
Figuratively and literally he swept me off my feet.
My feet managed to touch the ground again as he set me down to return to his team. Unfortunately my heart would never return back from it's spot on cloud nine.
I strained my eyes open. I hadn't even realized I fell asleep.
It feels too natural waking up to him, I'm so used to him being next to me.
I look up to my beloved. His eyes closed, and breathing shallow. I smile.
He is just so beautiful. Sun-kissed skin, and flowing facial structure. His hair a rusted blond, every strand sticking a different way. I'm pretty sure I had even aquired a knack for determining which hair was out of place by now.
I carefully kiss him, attempting not to wake him.
His eyes blink open, and stare at me. His lips return the favor.
My face finds its way back onto his chest, and I inhale his heavenly scent.
How can he possibly smell this nice? His cologne doesn't smell like this, I would know I bought it for him.
His arm brings me closer to him, and his free hand intertwines our fingers. His soothing voice is lulling me back to sleep.
If there was a happily-ever-after, I wish it was where I was right now.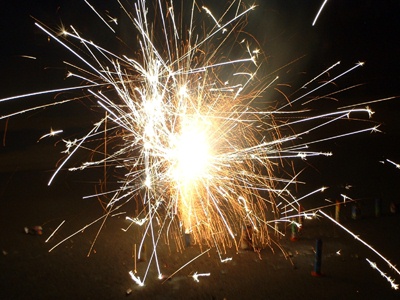 © Kevan B., Beaverton, OR