Creature of my dreams
October 9, 2009
I woke to the sound of my cell phone blasting. I sat up and turned it off. I looked in the mirror, YIKES! Time to get to work. I got out of my bed and went to my closet, chose an outfit and opened my window. Across from my window was my best friend's window, Taylor Blake Prenton. I looked to the east and saw the sun starting to rise. I quickly put on my makeup and got ready to go to school. Taylor was up now, and his window was open.
"Morning, Juliete." Jacob said. I know, I'm named after William Shakespeare's character in his book, get over it.
"Morning Taylor." I said, climbing out to sit on my window's edge like I always did when I was talking to Taylor. "What's up with my best friend today?" Taylor asked, flashing me his brilliant white smile.
"Not much, wanting for school to end sooner and start later."
"You and me both." He said with a smile again. He sat down at his window like me. He was wearing an ambercrombie and fitch shirt and jeans. I smiled this time.
"Ready for another day?"
"Yeah," He answered. "I just really need to talk to you for a minute."
"O-Okay." I said. Taylor never talked to me unless it was in text, around people, or around my family, I wasn't used to be completely alone with him needing to tell me something.
"Do you like me?" He asked. I was thinking – a thousand times yes!!!
"As a friend yea, I mean, if you were to ask me out I'd probably say yes." I stuttered.
"Great."
"Why?"
"Because."
"Because why?"
"You'll see today. Have lunch with me and the basketball boys, okay?"
"Sure, but I won't forget." I said.
"Do you care if I walk you to school?"
"No, I'd love it if you walked me school, Taylor."
"Great, see you downstairs." He said. I climbed back inside and walked out of my room. Then I walked back in to see Taylor on the phone. "Hey, Derek, I won't be carpooling today, I'm walking with someone." Ooooh, he chose me over his friend! "Because I want to that's why…….well, yeah, I'm thinking of asking her out, but don't tell anyone okay? Thanks, gotta go, bye." He hung up and walked out of his room I ran out of our house to meet him. He hugged me once I reached him.
"C'mon, let's go." I said, breaking his hug.
"So, when's the next basketball game, teammate?" I asked, starting to stroll with him.
"This Friday and there's a 5th quarter dance right after that."
"Awww, shoot, if only I could get someone to go with me, I'd watch your game and then have fun at the dance." I said, hopefully encouraging him. I'd had a crush on Taylor since we met in 6th grade, now being in our junior year of high school that was a pretty big crush.
"I think I can find you one, just wait until lunch okay?"
"Fine, I'll go with your way." I said, joking. We reached our school, Prowler High. Home of the Panthers. We strolled on in and Taylor walked me to my first period class, his hand brushing over mine every now and then. Once lunch came around, I was anxious to find Taylor. I found him and sat down with my tray with the basketball boys.
"What is SHE doing sitting here with us?" One asked, as usual, I was used to this approach. I didn't like it very much.
"Don't talk to Juliette that way!" Taylor said to the guy.
"Why, she doesn't mean anything to you, clearly." The guy said.
"Yes she does, Josh, she's my girlfriend." Taylor said. I looked at him wide-eyed.
"She is?" Everyone said.
"I am?" I asked. Taylor leaned in to whisper in my ear.
"If you want to be."
"In that case, yes, I AM Taylor's girlfriend."
"Since when?" Josh asked.
"This morning." Taylor answered.
"Oh my god, something's wrong with Taylor, he's dating a girl that's not a cheerleader." Josh said.
"Hey!" I said," I'm not a cheerleader, I'm a dancer. And Josh, shut up, I like Taylor and apparently he likes me so just get over it if you don't want to be around me." I said.
Taylor wrapped an arm around me, my heart sped and I was trying keep myself from screaming with joy.
"And I can prove that I like her." Taylor said. I looked at him wide-eyed again. His golden green eyes stared into my metallic blue. His face was getting closer, and closer, and closer, and closer until he was kissing me. I kissed back. There was something that I felt in my stomach in my head I thought, he's finally mine. And I could tell he was thinking, she's finally mine.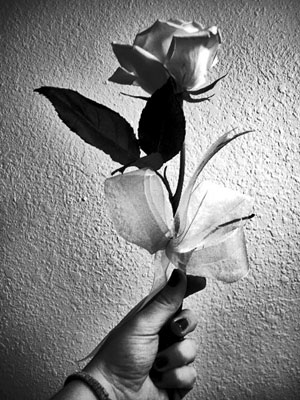 © Lauren R., Edmond, OK