Love is a Peculiar Thing
September 25, 2009
It was weird being in a new place. Everything was different, even the weather. I would much rather subside in Florida than here in Maine. I mean, Florida was where all my friends were.
I glanced up from my sudden trance to look at the lodge. Students lounged around the fireplace and held cups of coffee or hot chocolate. My eyes looked down at me own steaming mug; I took a sip. Faintly I hear a slight buzzing sound. Then I realize that it was my phone.
I'm lonely here w/o you. Megan texted me.
Me too
What are you doing? She asked.
Hanging out at the lodge. Waiting for the storm to end.
Oh, I'm sorry.
Oh well…
I g2g. Love you, bye
Love you too.
"Who was that?" A wind chime voice breathed in my ear. I turned to smile at the figure.
"No one important," I answered. The corners of her mouth hitched up in a smile.
She stood on her tiptoes; she was a short 5'4". The tips of her spiky black hair were frozen and her beautiful green eyes stared up at me lovingly. I bent down and pressed my lips to hers.
"Shawn Brown, I am so in love with you," she laughed; her laugh was a twinkling sound and it washed over me like a wave of peace.
"As I love you." I stroked her cheek with my hand remembering the last time I did this. Sarah grabbed my hand and pulled me to the front doors towards the snow mobiles. I let her drag me along and tried to forget the nagging sensation in the back of my head.


-----------------------
I called him again, wanting, no… needing to hear his voice one last time. I just couldn't live anymore. I love him and can't live without him. I let out a few tears and took a glance at the gun in my hand. Before I did this I had to write a letter. I picked up a pen and started writing.
Dear Shawn,

By the time you read this I will be dead. I just couldn't live without you. After you left me on the beach about 2 months ago I sat there contemplating my life. I am too depressed to even live. Please remember me after I die. I want you to have the rose that you gave me on our first date. I still kept it after 2 years. Shawn I want you to know one thing. I love you. I really do. Bye.






Love,






Megan
I folded the note and laid it on the desk. Then, as I wept, I held the gun up to my head. My hand shook and I could hear my parent's car pull into the driveway. Goodbye. I thought; my finger closed in on the trigger.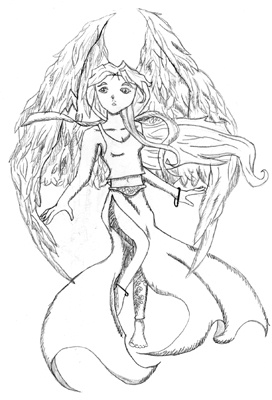 © Kellie D., Lafayette, LA