Butterflies & Spiders.
September 20, 2020
When we were younger—twelve or thirteen years old—there was nothing Betty Cora and I liked better than the Carlson Park swings. They were painted a bright shade of blue, and were made of frail wood. We spent every afternoon we could on them till the day the wood could hold us no longer, letting us fall into the ground, scraping our knees.
That's kind of how my heart felt that night, sitting under the stars with her.
It was February and "spring had sprung."
Betty and I were sitting in the grass, by the hill overlooking Waal's Lake. The sky wasn't purple nor black, but a strange mix of both. We spent some time trying to come up with names for such a color: barely-strangers, hardly-friends.
An empty bottle of wine rested between us on the grass. The scent of my laugh mixed with her perfume then. Betty's brown eyes were fixed on her black jeans, which I'd once painted with flowers. She had the sad look people got when they'd had a little too much to drink, you know?
She looked the way people did when they were about to be honest.
"Amelie?" she mustered. I turned my head towards her, expectant. My brown eyes searched for hers, which wouldn't leave the messy drawings on her jeans. "Do you ever… not like you?"
I shot her a puzzled look. The wailing of a siren rose and died in the distance. "What do you mean 'not like me'?"
She shrugged innocently, reaching for a handful of grass leaves. "I don't know. I mean, if you could choose to be anyone else but you, would you?"
"I—I don't know," I answered, lying down. "I don't think so. I don't think anyone else's body could feel as homely as my own," I chuckled. "I don't think anyone loves this corner of the world as much as we do. I think that if I were someone else, I might forget where the butterflies and spiders hide, past the broken swings in Carlson's park. I don't think anyone could love those swings the way we do."
I paused to see if she would say something, but she simply tilted her head to the side, as if I was singing a very hard song to follow. So, I went on, signaling at the serious trees and gossipy flowers around us.
"If I stopped being me, what would be of this garden? Would you look after all the butterflies and spiders, Betty? Where would all that good and bad about me go? Would you trust someone else with all that's sweet and wicked about you? If I stopped being me, who would I give this self to?"
What would I do with all this love I meant for you? I finished. Except I didn't say that last thing—my forbidden truth.
She sighed once I was done and lied down with me on the grass. "I suppose you're right. What would be of this garden?"
I waited for her to go on, hiding my hands within the sleeves of my sweater as a gust of wind waltzed past us, twirling to the sounds of the night. Two or three lost fireflies wandered around the clearing, appearing and disappearing amidst the trees. When Betty didn't speak again, I searched her face quickly, only to find tears in her eyes.
"What's wrong?" I asked her. Her gaze didn't leave the stars.
"I guess I just don't like me sometimes."
A beat. "Is… there anything I could do to fix that?"
Her brown eyes shifted to meet my brown eyes, and her sad mien broke into a sadder smile.
"That's the thing, Amelie. I don't know what it is I need, or what it is I want."
I didn't do much past nodding.
We stayed in silence for a while, watching the sky lose its mysterious purply color, becoming dark. Betty cleared her throat, getting my attention again. Once more, her gaze seemed glued to the filament as she spoke.
"So." I waited. "I know I haven't told you this in a while, but… I really do love you a lot."
I felt my heart skip a beat. Once it regained its normal rhythm, I replied: "I really do love you, too."
What I didn't say was: but not in that way.
Glancing at the mocking trees, casting their shadows about me in laughter, I wondered if I could ever express my sentiment aloud. Maybe, I thought.
Someday.
After moments of pleasant silence, Betty's eyes left the constellations to look at Waal's Lake below. Sitting up, she tucked her chin atop her knees. I mimicked her childish stance.
"Butterflies and spiders," she said, drunkenly, under her breath.
"Butterflies and spiders," I said back.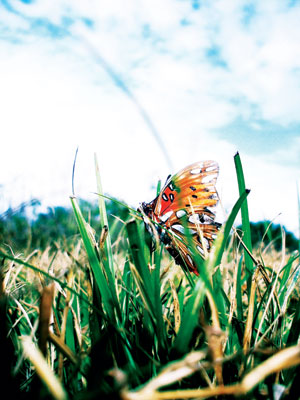 © Ashley B., North Port, FL