Train Ride
March 15, 2009
'The train is now leaving for the baggage terminal.' A monotone women's voice said over the intercom. A medium sized train car inside the Denver Airport starts to move slowly at first, picking up speed with every inch it travels.

Claire Tang looked put both hands on the support pole and tried to simultaneously pull the hood up of her charcoal pea cote. The stiff collar brushed up against Claire's pale sensitive cheek and gave her the irrevocable urge to scratch. The urge intensified and she refused to let go of the support pole. She was perfectly happy to finally be home after two weeks of dramatically boring business meetings. An image of a handsome business man appeared in her mind, his burgundy tie perfectly hung around his neck as he muttered the inevitable, he deep grey eyes plagued with seriousness, 'I'm going to leave my wife, Claire, I really am.' She pushed the image clear to the dark corners of her impeccable mind. On the three hour plane ride from Fresno to Denver, she had finally reached a valuable conclusion. She through with lies and married men. She was ready to gather her luggage and retreat to her one bedroom apartment and her spunky orange tabby cat, Stanley.

In the back of the train, a teenage girl named Laura with mouse like features sat on the bench in the very back with two white earbuds in her ears. Her angst radiated through out the cabin. Her more red then auburn hair was pin straight and barely visible beneath a black hood. Inside her black carry on bag she had nothing but two outfits, mascara and eyeliner, an ipod charger, and her grandmother's edition of Great Expectations. She braced herself for the moment in the baggage terminal where she would see her beautifully messy, slightly estranged mother who bathed in Gucci and whose beliefs were firmly implanted in the miracles of Dior anti-aging skin care. Laura had reluctantly come to visit after giving into her father's desperate pleas. The woman in front of her who stood seemingly trying to strangle the support pole wore a wool peacoat that looked practically identical to the one her mother used to wear when she would refuse to cut down the family Christmas tree with her and her dad at the old tree farm. Instead of taking part, she would sit in the car calling the family outing 'barbaric.' She knew her mother had not changed, though the five year old with in her wished she had. Laura had decided in the grand scheme of things, people don't change all that much.

A tall black man stood watching the blank unchanging stone wall which the train was passing. He eyes looked wistful, his face aged. He couldn't believe she said no. He bit his lip, a girly mannerism that had become a habit for him. She had said no, her navy eyes full of confusion. He was confused himself. What did this mean? Are they together still? All he knew was that he loves her, everything about her. The curls of her hair, the tiny scar above her left eyebrow from falling through the monkey bars when she was little, right down to her morning breath. She was his best friend. He kept checking his blackberry every two seconds to see if there was a new voicemail, missed call, text, anything. It didn't matter now, his mind said, you're now more then a thousand miles apart. His heart said, you're in love damn it! You don't give up on love, you don't forget about love. Devin was inexplicably conflicted. He listened to his heart with consideration for his mind. He dialed her familiar number, it went straight to voicemail. He didn't leave a voicemail, but he sent her a powerful three word text. I love you. He painfully tucked his black berry into his pocket. Devin had figured the ball was in her court now.

The women's voice came over the intercom for the second time, 'We are now at the baggage terminal. Please exit the train. Next Stop Terminal A.'

Claire, Laura, and Devin all gathered their belongings and waiting patiently for the crowd of people to disperse before stepping out of the train. Claire smiled at the anticipation of finally being home. Laura desperately wished she was somewhere else. Devin checked his black berry again silently praying for a miracle.

Then with a blink of an eye all three disappeared into the sea of people.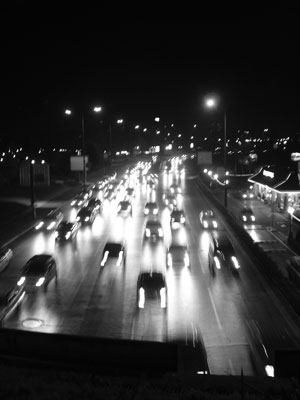 © Marietta S., Pleven, Bulgaria