Broken Pieces
January 31, 2009
There's too much.


Or maybe there's not enough. There's too much damage that has been done to me. There's not enough left that you kept in one piece. Too many pieces to try to fit together. Too many memories that haunt me.


Thanks to you.


Now I have to try to put myself back together. I have to forget about what has happened, like it was all nothing. But it wasn't nothing. It's something. Something that broke me, like a jockey breaks a horse.


I'd rather remember.


Pick up the pieces and replay them again and again. I'd show myself how weak I was. How spineless I've become. Then maybe next time I'll do something. I'll learn from my mistake.


The mistake of letting you hurt me.


Does my pain make you happy? Does my suffering cause you joy? I hope it does. Then at least my pain can be useful to someone. My misery isn't completely pointless. My life had now affected someone's life positively.


But now I've learned.


So maybe you did help me. I learned how worthless I am, how insignificant I am to this world. If my only purpose is for my grief to please others I am really nothing. And you helped me learn that.


I am broken.


But I deserve it. So no one try to help me put back the pieces. I want them to me a message that I'll always remember.


I am nothing.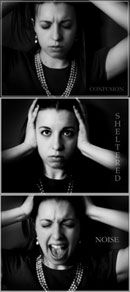 © Michelle B., Blairsville, GA