Peace of Mind
March 4, 2015
They say that ignorance is bliss but that the truth will give you peace of mind and set you free. That's not at all true.
My husband lied to me, for months, but I was happy. I had a regular nine to five accounting job after which I would come home and spend time with my two lovely kids. Then, once Dave got home, I would start dinner while he helped the kids with their homework. We had a schedule, a routine, a rhythm that I thought was working. Sure we had our fights every once in a while, but that's typical of a marriage. What couple doesn't have it's little squabbles.
I should have known something was up when Dave started to break our routine. He would come home later than usually and plump himself down in front of the television instead of paying any attention to our kids. Then he started criticizing my cooking. I know I'm no Martha Stewart, but it's not like I burned everything I touched. We started having more arguments, some that our kids could hear. One time, little Lucy interrupted us because we had woken her up from her sleep. No little kid should have to see the hardships of a marriage. Waking them up was just the beginning though.
Dave started staying later at the office or went to the gym after work. I considered myself lucky to have him home on any given weekday. As Lucy got older, she started getting into dance and Jack, well, he got into football. The two of them would tell their father about the play or the game, and remind him to come and see them. And everyone time, Dave promised, "Yeah sure," in the most fake way possible. When he didn't show up to the football game, it was easier to lie and say that he was there for the first half and then got called out to go to work. But when he missed Lucy's first ever play, that's what crushed her. She could look out anytime she wanted, but she could always see he wasn't there. He was never there.
I started begging Dave, begging him to be the father he should be, be the father he once was. But, one argument led to another. . . words were thrown, things were thrown. . . more than objects were broken. . . And he moved into an apartment in the city.
Lucy blamed herself and I tried telling her that it wasn't her fault, but she just wouldn't stop. So, three months after our split, I went over to his apartment to ask him to help his daughter. When I got there though, the door was unlocked. I heard some banging in the room and things crashing. I thought there had been a break-in so I went inside, but that wasn't the case. Oh how I wish that were the case. There wasn't a bandit stealing money. There was a girl, stealing my husband.
I ran out of there and my husband tried to explain, but there weren't words that could console me now. He was cheating on me. He had been cheating on me for months. But worse than that, his kids, the people once proud to have called him father, now blamed themselves for his selfish action of leaving.
So here I am, writing this, thinking about what they say and how all of it is a lie. Peace of mind should be when everything is in order and harmony. I had order and harmony when I had ignorance. Now all I have is shattered, broken, crumbling, falling down. The only way to get peace of mind back is to forget that cheating pig. But I can't stop thinking. The only way I'll be able to rest in peace is if I start falling down...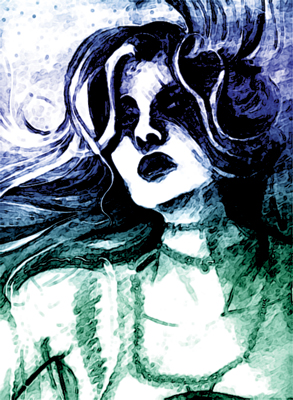 © Sindi J., Westminster, MD