The Acne Commercial
January 10, 2014
She leans backward on the couch and puts her feet up on the table, chewing on the end of her pen. Jealously finds it's way into my brain as she nods at me to sit across from her. She smirks at me as I ease myself into the sleek brown chair and look down at my hands. I begin twiddling my thumbs, as if I were an unintelligent monkey. Well, I guess I have already earned that status, considering how much farther in life she has gotten than I have.

"How have you been for the past couple of years?" I look up as she asks this. I'm pretty sure that she only brought this up to remind me that her life has been exceptionally better than mine. I have to show her that I am the bigger person. I have to say something that will impress her. Oh, come on Jane... think... think...


"I was in an acne commercial." I close my eyes and wince as the words come out of my mouth. Really, Jane? Ten years filled with acting experience, and you boast about the acne commercial?

She laughs at me. "Yes, I saw that. Your acne was so bad that it was a miracle they removed it." My face turns red at the memory. I remember the entire event. I picked up the tube and looked at the camera, exclaiming my only line with fake enthusiasm. It's a miracle!

A miracle.


I try to say something. My mouth forms the words, but they do not escape. She leans forward and rests her chin on the palms of her hands. Mock pity is etched into every aspect of her face. "Would you like a signed copy of my book?" she asks. "I hear it's made the best seller list on more than one occasion."

Harriet. This is so typical of her. She invites me into her office to mock me, and then sends me away with a little reminder of the fame and success she has earned.

I cannot listen to her talk to me like this anymore. I have done it for my entire life. I am a grown woman now. Gosh, I can stand up for myself!


I suddenly get out of my chair and stand above her. "No, thanks, Harriet, but I did not come here for your pity. And I would like you to know that I am a grown woman with a job and a family. Sorry, but I must get on with my life. Have fun with your success! I really don't care."

I look down at Harriet and ease to a stop in my speech. She looks astounded. Astounded, but hurt. She glances upwards, a shaky smile on her face. "You were always our parent's favorite, Jane." She says it at a whisper. I try to think of words, but yet again, nothing comes to mind. But this time, it is for a much different reason.


So, I pick up her best-selling book and walk out of the office, opening it to the first page. I read the acknowledgement as the door slams shut behind me.

To Jane,
My beautiful sister,
who inspires me more
than I could ever have
inspired myself.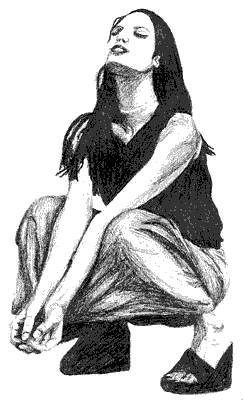 © Andrea S., Oakhurst, CA