Elephant in the Room
MAG
November 29, 2013
Our English teacher has crooked teeth, which is terribly distracting, but the worst part is that the entire anthology I purchased is highlighted in various ugly neon colors.
"That's what you get for buying used," you sneer.
I ignore you for a multitude of reasons, the main one being I am pretending that I don't know you, and if a stranger had made that comment I would ignore him too.
Of course, I do know you. That's something I can never change. I know what you will say next and I know what you would say to begin with and I know what you will say in the end. I know that if I told you any of this you would narrow your eyes and shake your head, and I know that you know that I know. So, as we all do, I tweet something that is meant for you but doesn't mention you.
"I'm sad," I tweet. Very broad but very specific.
"I wish people would stop whining on Twitter and get a life," you tweet.
"I never did anything to hurt you," I tweet.
"I really don't care," you tweet.
"I thought you were different," I tweet.
We go on like that for an hour, tweeting general tweets to each other. You won't talk to me any other way. I have to admit, the fact that we share a teacher feels so good to me. Whether you like it or not, we have something in common, and you can't change that.
We get assigned to a project together, because since we started the year as friends, our seats are permanently beside one another. I think this is my chance.
"Hi." I bite my lip because you said that was cute once. "So what do you think …."
But you cut me off with silence, the kind of silence that speaks volumes, more than words ever could. For the first time ever I understand the expression "elephant in the room."
In my mind I call our elephant Paul. Before, when we were together, it was just me and you. But now Paul is sitting between us, crushing us both. And neither one of us knows how to talk to Paul and ask him to move and leave us alone and never come back. So he just stays there, awkwardly crushing us and keeping us far, far apart. Honestly, I think you know how to make Paul leave, but you don't want to.
At the end of the day, you are waiting to go home. "Time repeats itself a lot, doesn't it?" I say, because this scenario has been played out a million times and has always ended pretty well. Except this time Paul is here, staring me in the face.
"You should be a philosopher," you say.
"Why did you kiss me?" I blurt out, even though that was never ever part of the plan.
You stare at me. "I don't know."
"That's bull," I say. "I have a problem with thinking about how things used to be, and I hate it when things happen that change everything even though they shouldn't because they aren't that big a deal."
You smile a bit. "Not everything changed. All the good stuff still happened. Just don't expect it to happen again. Think back on it and be happy while remembering. Then look for something else."
"I am looking." I don't cry. "I was looking all this time."
"For what?" you ask.
"Something else," I say. That is code.
"Well, I hope you find what you're looking for."
In that moment, I realize it is over. We won't be anything, not even friends, because you've come to terms with what happened and you've gotten over it. Paul only exists in my mind. You don't want to talk to me or see me because you got what you wanted. You are still looking because I'm not your something else.
I don't say any of that, though. What I do say is "Oh, I will. I will find it."
But I doubt it, because what I'm looking for is you.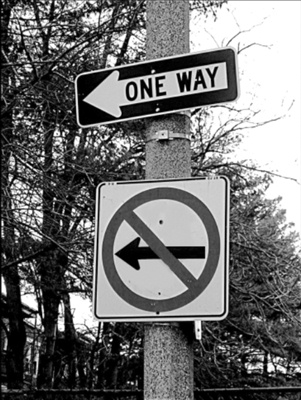 © Maria B., Boston, MA