21 Guns
March 21, 2013
It was unbearably hot. Lindsey pulled at the collar of her dress and tried to ignore the heat coming from the sun above. She could see that everyone was trying to do the same, staring straight forward and blinking the sweat out of their eyes like they didn't notice. Luckily, the sweat stains wouldn't show through anyone's black clothes. One man in particular looked like he was about to have a heat stroke wearing his heavy black jacket.

Lindsey's mother reached out to the man, patted his shoulder, and whispered, "Take off your coat, Frank. Antonio wouldn't have wanted you to suffer in this heat."

Frank nodded and took off his jacket while Lindsey looked ahead at the large crowd assembled in front of her, a sea of black-clad figures sweating underneath the blue, cloudless sky. It was a beautiful day. When they had entered, she had gazed up at the large American flag hanging from the crane. There was no breeze to alleviate the heat, and the flag hung there motionless and limp as a corpse. As they had walked to the site, she had carefully walked around the graves, careful not to step where the bodies were lain underground while others walked just walked across, as if they didn't notice they were treading on top of others. Now she stood in a spot near the back, far enough away from the nearest grave to feel respectful. She couldn't hear what the man up front was saying, but she assumed it was something nice.

At first when she had heard the news that Antonio had been killed in Afghanistan, she had been devastated. She remembered the phone call from her mother, who had wanted to make sure she didn't hear it from someone else. She had hung up the phone and cried for someone she had met once and barely knew. He was her friend's fiance, but as he had done six tours in Iraq and Afghanistan, he had not been around much. The one time she had met Antonio had been when he had picked up Joanna at work. She remembered him being very handsome and very quiet. One could read his military experience from the way he held himself upright and spoke, though quietly, in a commanding tone. Lindsey remembered the look on Joanna's face when she saw Antonio standing there; absolute and utter happiness. Lindsey wondered if she would ever look like that again.

Lindsey had never been to a funeral of someone she knew before. She had been to several of people her mother had known, but never someone she had actually met. She had also never been part of a funeral procession before, the slow drive from the school to the graveyard, many cars following the hearse. She had been surprised when, as they turned down the main road in town, the cars were met by hundreds of people crowding the street. Lindsey had tensed, afraid that they would somehow try to stop them from getting to the cemetery. But instead, she had seen that they were all waving American flags, holding signs that said "Thank you Antonio."

Lindsey looked over at Joanna standing next to the coffin. She was surrounded by her family and Antonio's family, who were all looking down at the coffin covered in an American flag. She looked as beautiful as ever, wearing a simple black dress. But there was something missing: a sparkle. That sparkle that lit up in her eyes when, after hours of waiting and clutching her phone, he finally called from Afghanistan. The sparkle that appeared whenever she discovered when he would be returning home. Lindsey missed that more than anything.

When Lindsey had been sitting in the high school auditorium for Antonio's service less than an hour ago, she had felt numb. Everyone else around her had been crying, careful not to make too much noise. A few of his friends spoke. One mentioned how he should have been making this speech at their wedding. His officer told us how he died; bullet straight to the head. No pain, no suffering. It was almost comforting.

The soldiers lined up, preparing to do their 21 gun salute. Lindsey still could not bring herself to cry. She had not told anyone, but she was angry at Antonio. He had been on his sixth tour of Afghanistan, though he had told everyone his fifth was going to be his last. He had re-enlisted mere months after returning home, simply because he could not envision doing anything else. During his term in Afghanistan, he had decided to extend his stay another thirty days. He had died a few days later. A few days after he was supposed to come home. Lindsey remembered how a helicopter had gone down there the day before, and he had called Joanna to ensure her that he was okay. At least for another 24 hours.

Lindsey started when the first gun shot went off. She saw her mom put her arms around her younger sister who was suffering more than most from the heat. Her other sister was standing slightly further away, uncomfortable with the fact that she was crying where others could see her. The soldiers put down their guns and the bagpipes started their mournful song. Lindsey felt herself finally begin to cry.

Wiping at the tears running down her face, her eyes wandered once again to Joanna and Antonio's family. Looking at their lifeless eyes, she couldn't help thinking that Antonio wasn't the only one who had died that day.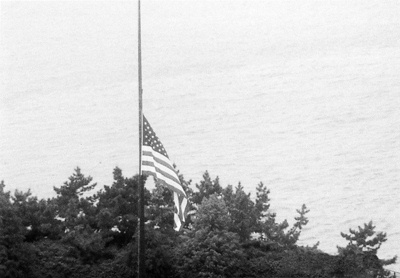 © Jessica E. Pelham, AL