The Color of Ice
February 22, 2013
Thursday, February 28th
7:02 pm
I have to turn in a poem tomorrow for English class. I shouldn't have put it off. I had all week. Now I'm in for it, because I'm having major writer's block and a blank piece of paper.
Dianna told me to call her.
For all I know, Nathan Brooks, my crush since 3rd grade sent me a friend request on Facebook.
No, that's unlikely. But I would be able to check if I didn't have to write this STUPID poem.
7:35 pm
Can't think!!!!! My little sister is pitching a fit because she doesn't want to brush her teeth.
8:10 pm
The paper is still blank. I just called Dianna. She didn't say anything particularly interesting as usual. Just more gushing about her dreamy boyfriend Mark. She's been rubbing in the fact that she has a boyfriend and I don't since Valentine's Day when she and Mark got together.
Mark isn't even that dreamy. Just weird.
8:53 pm
Nathan changed his Facebook status. He's going with Robyn Zimmerman. I haven't liked her since she got glue in my hair in kindergarten.
9:12 pm
I'm composing a letter to my English teacher about why I can't write a poem.
10:01 pm
Still trying to figure out a letter. Mom told me lights out, so I had to turn them off. She's really strict about that. I'm using my book light.
11:53 pm
I decided against the letter, but the paper remains blank. I checked Robyn's Facebook status too, just to make sure Nathan wasn't kidding around, but no, they are officially dating now, I guess. Anyway, I'll have to scrawl a poem on the bus or something, because I need some sleep. Maybe I'll do a Haiku. They're quite easy.
Friday, February 28th
6:36 am
Ugh. Totally not the day I wanted to wake up late. My alarm was supposed to go off at 6:00. Turns out I set it for 6:00 pm because I was so tired last night. The bus comes in half an hour; my dreaded English class is the first period after lunch. Will I be able to think of a poem by then?
I think not.
7:01 am
On the bus brainstorming like crazy.

I am on the bus
Brainstorming for English Class
I don't have a clue.

No good.
11:00 am
My classes were so hard this morning. I couldn't figure out a poem. So now I am sitting with Dianna at our normal table. She's blabbing away, cool as a cucumber (Who made up that weird saying anyway?) while I'm having a panic attack.
"Mila, why are you hyperventilating?" she asks me. But my eyes are on my blank paper, blinding white.

There once was a girl named Mila

Why can't I think of a rhyme for my name?
11:42
The bell just rang, marking the moment of doom. Robyn giggles at me in the hall, probably because of the dark circles around my eyes. I probably look like Raccoon Girl or something equally unattractive.
"Mila, are you all right?" It's Nathan.
"Um, I'm fine, I just didn't get enough sleep last night. You know? Like a late night?" I stammer. I sound like an idiot.
"Uh, yeah, I know." He replies. His eyes are really nice. Gray I think, or maybe blue. Icy. The color of ice.
12:16
"Please hand in your papers, pupils." Ms. Haggerty, my English teacher, has got to be the only teacher that still calls students 'pupils.'
When she reaches me, I'm ready. I hand her my paper.
It's not blank anymore.
His eyes are warm as the sunshine
When they look at me
Yet they are the color of ice
Cold and harsh
He smiles,
The ice melts
Into pools of crystal-colored water

Not the best, but I'm no longer blinded by the white. Instead, there are eyes.
Eyes the color of ice.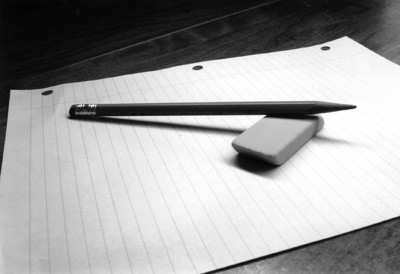 © Michael H., Mildford, CT