Black and White
January 15, 2013
Everything is a blur of black and white. The silence is deafening. Some are avoiding my gaze and some are shocked at what they see. I reach out to fix your tie. You look so handsome in your tux. So distinguished. I smile. I wonder how you would compliment me if you could see me. You would probably cry, like I always imagined you would when I met you at the end of this aisle. I never imagined I would have to meet you this way. I always imagined it would be blue and white. Flowers are here, but they aren't like the roses we chose. These are red and we wanted white roses with blue sweet peas. I always imagined you would whisper the words to our song as we stood by the candles. There's a song, but it's not the one we chose. And there are no candles either.
There are a lot of pictures though. Most of them are of us, laughing, smiling and there's even one of when you asked me. I tug at the white sleeves of my dress when I see this one. People are watching. But I don't care. My fingers are crazy. They move constantly, stopping at the sequins and beads, but I have enough sanity not to tear them off. I hear sniffling in the room. And I turn to see your little brother, tears pouring down his face. Your mom is crying too. I always thought my mom would cry when I walked down the aisle.
When the ceremony is over, I hike up my white dress and walk out. Alone. The rest of the way, I don't remember. All I know is that you weren't with me. You weren't holding me. You couldn't see the beautiful gown you had bought me or tell how much you loved the way I had curled my hair. When I finally realize that we've arrived, I pull myself out of the car. My dress gets caught on the door and tears a little, but I don't care. And before I know it, I'm running to where you are. Scrapping manicured fingernails on that thing they have you in. That box. I'm screaming. What? I don't know. Just screaming. Screaming why. Screaming how. Screaming I love you. And I can't see anyone or anything. Just this box that's holding you back from holding me, from telling me you love me. As I scream, rain starts falling and my dress is muddied. My hair sticks to my face and I can't tell my tears from the rain.
No-one pulls me away from the casket. No-one tells me that I'm ruining a wedding dress I could have used for someone else. No-one tries to tell me that it will get better. No-one says a word. I slowly let myself slip down the smooth marble of the casket and I lay on the ground next to you. I press my ear there and listen for your heart beat, your voice, but there is nothing. I lay there for what seems like an eternity, but must have only been a little while and soon I feel my father's hands picking me up from the ground. And as he carries me away, I watch them bury you. I watch them cover you with all I wanted for us. All the dreams we made together are now what are burying you. You're gone ... I'm here .... Why does that sound so wrong?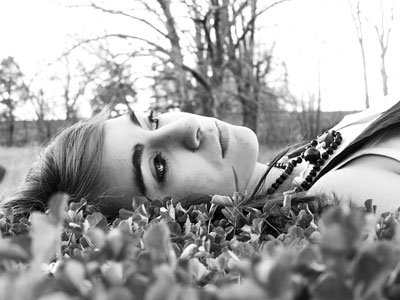 © Jasmine R., Bourbon, MI