The Yang To My Yin
September 18, 2012
I woke up and thought it was going to be the last time I was going to see her, to look into eyes, to kiss her lips, so brush my finger across her cheek, to rub my hand up the small of her back or across her thigh. She hadn't woken up yet. She lay still, shrouded in blankets like she was floating in soft clouds high up in the sky, deep in sleep. I memorized her body: the shape of her eyebrows, the curve of her eyelashes, the light goose bumps on her neck. I kissed her shoulder and wrapped my arm around her. I did it slowly, carefully trying not to wake her. I watched as she scooted closer to me as if she was awake just for a moment, a moment of wakefulness just to simply become closer to me. I watched her wavy blonde hair fall to the side of her face covering one of her eyes. She looked so peaceful. She looked like she was in such a deep sleep. I scooted closer, feeling like I wanted to fill any space in between us with our skin pressed up one another's, but we were already as close together as you could possibly be.
The cold air was crisp on my unsheltered skin, but warm underneath the blanket. It was the perfect contrast of opposites in more than one: the hot and cold and her being the yang to my yin. Total opposites yet perfectly infused, creating the perfect balance and tranquility. I thought about nothing but her, just glad that she lay so peacefully asleep, undisturbed by the chaos of the world. Light started to shine through the single window in the room, filling the air with warmth, bringing my senses to the realization of how cold it really was before. It became brighter and brighter until the light shined directly in my eyes, blinding me for a moment until I closed my eyes and I was blind no more.
I drifted off for a while, in perfect synchronicity with my counterpart and slept. I dreamt of my life. I imagine each memory and experience as a puzzle piece. It created a puzzle of what seemed to be made up of an infinite amount of pieces, but then my vision focused on one piece alone. It was just white, but I knew that the missing piece was her. It fell down through the air, directly down to the heart of the puzzle, falling perfectly into place, filling a gap that was made for that one piece alone, completing what seemed to be an impossible puzzle. I was whole.
I woke up, the sun blinding my eyes again and I looked at the wall opposite of the window. I looked at my shadow. It looked misshapen. I couldn't tell how. I just knew it didn't look right. Soon the soft, grey, deformed outline of my body became darker. It started with a shapeless, black blob in the center, filling up to the boarders of my body. Then it spread past the edges overtaking the wall, covering the room in swells of darkness and everything went black. I woke up in a cold room, alone on a sheetless bed. I lay there, alone and empty, curled up in a ball, realizing that my love, my perfect counterpart, my soul mate, was nothing but a dream.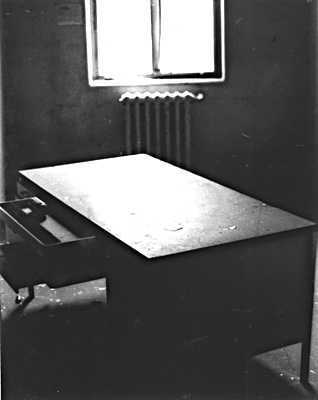 © Flynn O., Novato, CA