I'm Still Here
July 29, 2012
The tears fall savagely from my face as they lower his small coffin into the ground. Then like a whisper I here, "I'm still here". I look around me, but the only people there are my family and they are crying as well. I re-focus on the tragedy in front of me and hug my mom.

My eyes are welling over as I prepare to press the razor to my skin and cut the pain away. I brace myself until I hear. "Please stop. I'm here. I'm still here." So I stop. I throw away the razor and scream and cry. "PLEASE! PLEASE TALK TO ME AGAIN! PLEASE COME BACK!" I bawl at the ceiling. But of course he can't hear me. Of course he doesn't answer me.

The tears are falling from my face again. This time from relief. I'm graduating high school. I recieve my awards then I'm congratulated and hugged by my family. For one split moment I think, "If only he was here to celebrate with me. If only he could be with me today." And I hear it again, "I'm still here. And I'm proud of you." I smile. To myself. To him.

Fast-forward a few years and I'm getting married. I'm crying tears of happiness now. My husband-to-be says, "I do." When it's my turn I say, "I do". I hear "you may now kiss the bride". My newly-wed-husband leans in and kisses me gently. As we walk down the aisle I think, "He should be here watching me. He should be celebrating with me."After all the pictures and all the hugs my husband and I start walking to our car. I'm just climbing in when I hear, "Don't worry. I'm still hear... And I'm celebrating."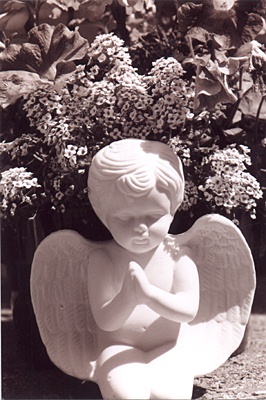 © Laurie T., Hopkinton, MA