The Man I Met on the Subway
July 22, 2012
I saw him sitting on the bench in South Station subway station. He looked around at all the people shrugging each one off. He looked suspiciously at everyone. No one was safe to him. I had to wait for the southbound train so I went to sit on the bench next to him. I was thirteen at the time and my mother had just trusted me to take the subway to school that morning.
I walked over and he averted his eyes at me as he did with everyone. I stood looking over his bald head and I could see my reflection in the shininess.
"Can I sit here?" I asked him.
He looked up at me and saw that I was a child. His shoulders relaxed and her let out a heavy breath.
"Sure." He sighed. Although he looked more relaxed, he still avoided glances and stared at the back of people's heads.
"What are you doing?"
His head snapped toward me. He had forgotten I was there in the short minute.
"I'm, uh, looking for someone. A friend."
"I'm guessing you're scared of him."
His dark eyebrow furled at my observation. He ran his hand over his head imagining what hair felt like.
"How do you know that?"
"Because you look scared. You flinch every time someone walks by. You don't look at anyone! Whoever this person is, he's not your friend."
He stared at me and I stared at him. He was relaxed now. I continued with my rant, thinking the whole time about my friend Stacy who had been so mean to me and I had still said she was my friend.
"You need to stand up to him. You need to tell him that you don't want to be friends anymore!"
"I can't!" he shouted so his voice echoed off the underground subway. Some people looked but most people didn't.
"He'll, um, hurt me if I don't do what he says."
"Oh, a bully! Why didn't you tell me it was a bully? You have to stand up to him even more! Knowing bullies, he must pick on other people too! You gotta take one for the team!"
I lightly punched him in the arm, hopefully encouraging him. He smiled for once and laughed a little. I couldn't tell if he believed me, but at least I was making him happy.
"You got spunk kid. What's your name?"
"Amelia, sir." I answered politely.
"Well, Amelia thank you for the advice. You better go stand by the edge if you're going to get to school on time."
I didn't know how he knew I was going to school. I later figured out I was wearing my uniform. I remember saying goodbye to him and running over toward the edge and joining the crowds of people waiting.
Right when the train pulled up, I looked for my friend to see if he was getting on as well. It took me a while but I saw him by the front of the train. He was with three men all dressed in slick black suits. On had a fedora on and the other two seemed to be hid body guard. They were in the shadows so it was very hard to see what was going on.
But I saw the three men back my friend up until the edge of the platform. I saw the one in the fedora wave his hand and I saw the larger of the bodyguards slightly push my friend's shoulder. He fell into the abyss between the platforms. Then I felt the whoosh of air as the train left heading straight toward my friend.
I'm glad I didn't see it or hear it. I wasn't happy that I missed my train. But I wouldn't want to be on that one. I hoped that my conversation with him didn't influence the men to push him. Although I regret saying this, I hoped that they were already planning to kill him.
I was thirteen and that was the last time I rode on a subway.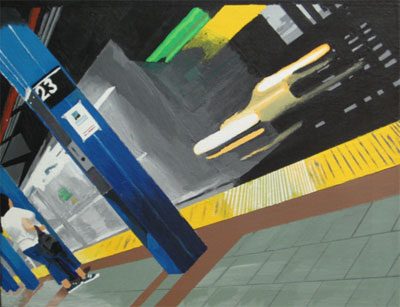 © Doug T., Pittsford, NY